Dixons cuts Ice Cream Sarnie ready Xoom to £225
Catch it if you can
Cut-price 32GB Android tablet, anyone? Dixons is now pricing the 32GB Motorola Xoom at £249 - if you can find one.
And, according to readers, keying in the discount code 'Tablet 10' at the checkout will get you ten per cent off the sale price, taking the tablet down to £225.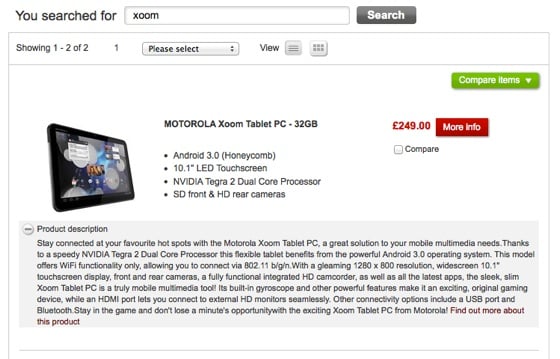 The catch: word is getting out, and the cut-price tablet is selling out quickly. It's not available through Dixons' websites, but some folk are claiming it can be bought in shops.
Dixons has the Xoom down as an Android 3.0 Honeycomb device, though Motorola's own spec sheet lists it as Android 3.1.
Either way, Motorola has already posted the 3.2 update, and the company has begun pushing out the eagerly awaited Android 4.0 Ice Cream Sandwich update in the US. Hopefully, the UK release is not far behind.
The Dixons Xoom page has all the details, and you can read Reg Hardware's Xoom review here. ®
Thanks to Frank C for the tip
COMMENTS
"Hopefully, the UK release is not for behind."
Don't worry, I'm pretty sure you're just supposed to hold it in your hands. Nice bit of Engrish though :)
I can't find the Transformer for less that abut £330 quid, I wouldn't call that 'not much more', and that's for the 16Gb model. The keyboard dock is a great add-on, but without it the Xoom is a better device.
Early reviews of the Xoom mention the SD card port being disabled, but that is long since overcome by firmware updates, so thrown in a32GB SD an have a 64GB device for peanuts.
I got a Xoom off ebay just before christmas, and it's almost never out of my hands. Briliant for media and useable as a work device too. I'm not quite geek enough to hack it for ICS, I'll wait for the UK upgrade, but Honeycomb is still a great OS, and any limitations are easliy overcome by free apps from the market. Much more flexible and useful than the iPad (my wife has one, so I can compare side-by-side).
It probably wasn't woth the original asking price, but this is silly money.
If anyone manages to pick one up, I recommend this case on amazon, which is really useful and dirt cheap:
http://www.amazon.co.uk/DURAGADGET-Degree-Rotating-Motorola-Tablet/dp/B0057O42JY/
ICS Easy
It's very easy to get ICS on a UK WiFi Xoom. No need to root it, just unlock the bootloader, download the official Xoom US WiFi ROM from the Motorola website and once it boots it updates itself to 4.0.3
D'oh
Kinda making my first foray into tablets with the PlayBook at £199 (32GB model) look a bit silly really.
The Xoom was top of my shopping list, but at the prices at the time, the PlayBook seemed the better option. D'oh. Oh well, suppose I'll save up for the Transformer Prime now...
good stuff!
For those not happy paying a huge amount but want a good solid tablet this is the chance to get one. Especially when ice cream sandwich coming for it, so wont be any different from the latest tabs apart from weight and speed really.