In the process
The speed achievements of this small camera are quite remarkable. Start-up time is less than a second and processing times are very fast in JPEG, although the opposite is true in RAW format but that's typical of this class of camera. Besides a continuous shooting rate of 7fps in normal Burst mode, if you don't mind a reduced resolution, you can opt for an increased speed of 30fps at 5Mp. Battery life is nothing to write home about and in line with the declared rating of just over 300 shots.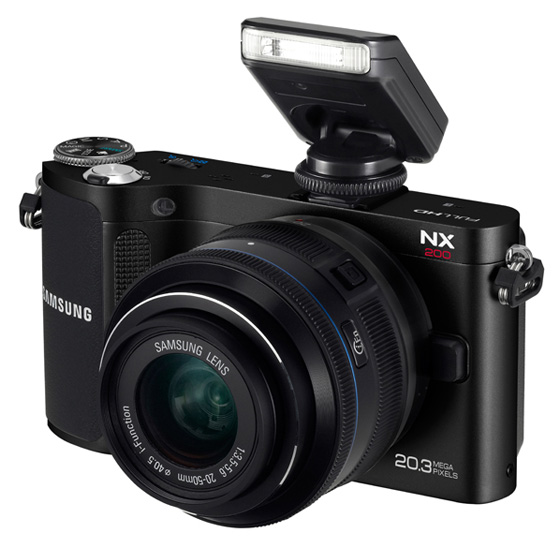 A basic flash is supplied with the camera
Despite using the normally slower contrast detection system usually found in compact cameras, Samsung has tweaked it to achieve DSLR speed results, with commendable precision, responsiveness and reliability. The NX200 offers a choice of four AF modes, including Selection AF, which lets you select the focus area, Multi AF, Face Detection, and Self-Portrait Tracking, with Single and Continuous focus options.
There is also a Manual AF Modes with a focus assist feature that, mercifully, is automatically activated as soon as you turn the lens focus ring and reverts to normal view once you set the focus. The assist can be turned off or set to different magnifications in the menu and is a great tool for fine-detail focusing.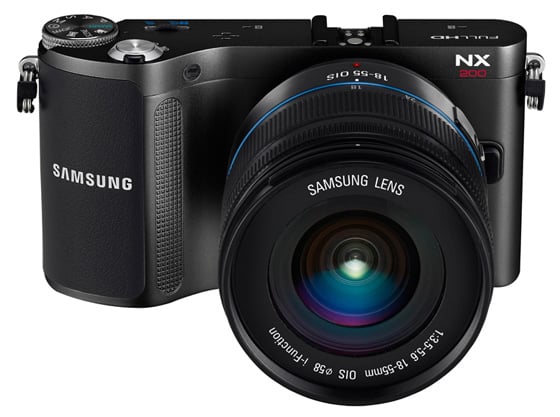 The standard fare 18-55mm kit lens will get you started
Until recently, the lack of lenses had been an issue for anyone considering the NX range of cameras. Thankfully, in the past year Samsung has added five new lenses to the existing range and now notches up an enviable selection for a compact system camera. This is in addition to the Pentax K-mount compatibility, achieved using an adaptor, and the company's statement of more lenses in the pipeline.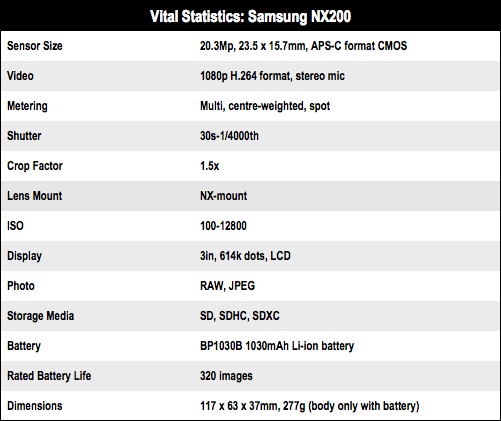 COMMENTS
Drop the gimmicks, add useful features
If I want to make my pictures look like drawings, or oil paintings, or acid-induced fever dreams, I can do that on my computer, thankyouverymuch. Drop that crap, and put useful features in the camera, like high dynamic range capture, panoramic assist (you don't even have to do the stitching in the camera - just help me do the pointing to acquire the pictures), and GPS/magnetometer geotagging. Better still - give me the ability to quickly annotate the picture - maybe a simple voice recorder function?
Much to like
The NX200 does look like an interesting choice, with a nice selection of compact primes (Sony take note!) making for a compact and portable kit.
The only downside I can see is the loss of the accessory port that the NX100 had and therefor no way to use the EVF that was available for that camera which does look like a retrograde step.
Samsung NX200 20mp - good results, especially in low light.
The low light handling for a 20mp sensor is pretty good. Noise in the ISO 6400 is quite noticeable and there's some colour bleeding, but still it's not bad for that speed. Also, noise is well weighted, for example in low light grays at the pixel level there's not noticeable numbers black pixels (as with cheap sensors).
Samsung has the makings of product that will shake up Canon and Nikon methinks.
Yup, that's an EVF alright. It fits nicely into the accessory port on the NX100 - the same port that Samsung have decided to leave off of the NX200. If there ever is an EVF for the 200, it will have to be a new design.
My sydlexia must be on tonight.
I managed to read APS-C as 'arse'