Wacom Bamboo Fun S Pen and Touch
Graphics tablet and trackpad in one
Wireless whirled
A nice feature, though, is how the tablet automatically switches from Touch to Pen mode when it detects the stylus nearby. This prevents accidental mouse actions when, for example, resting your hand on the tablet while using the stylus.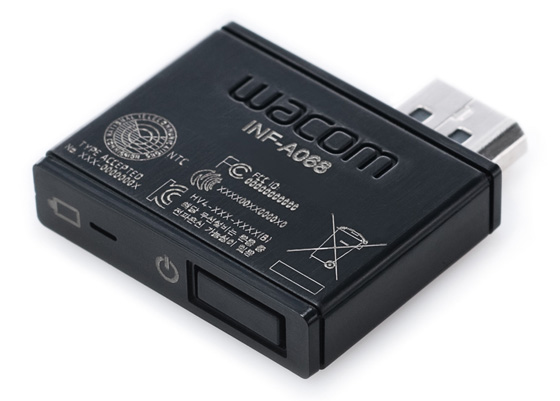 Tablet wireless adapter
The one design fault that sang out at me right from the start is the way the active area of the tablet surface is surrounded by a 3cm thick inactive border. What's that for? Worse, the active area is indicated by almost-invisible corner tick marks. Every few minutes I find I'm wondering why my on-screen cursor has halted, only to find that the stylus or my finger has strayed into no-man's land. If it's not possible for Wacom to avoid building in this massive inactive border, surely a groove or some other tactile edge could have been added to let me feel where it begins.
A much better example of design is the extra-cost wireless upgrade option. Unfortunately, it doesn't use Bluetooth so it won't free up a USB port on your computer, but it's simple to fit and works instantly. A battery-receiver slides into a slot in the tablet, while a tiny transmitter plugs into a free USB port; the USB cable supplied with the tablet is then used only for recharging the battery when required. The battery lasts a good week or so between recharges, although I found the Windows driver kept reporting that the battery was nearly depleted when it wasn't.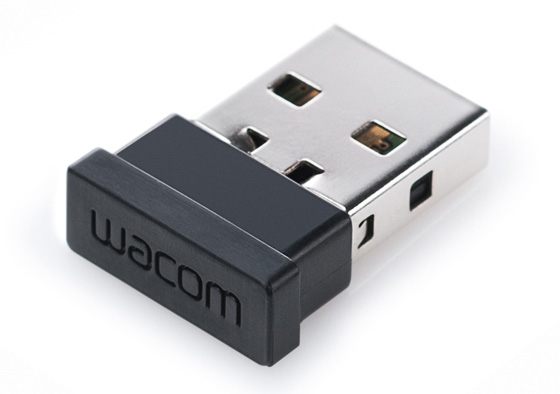 The USB dongle end of the £35 wireless upgrade kit
May I say that using a wireless graphics tablet, especially one supporting touch gestures, is wonderful at times. Instead of chaining you to your computer, it allows you push back from your desk, stretch out your legs and carry on using the tablet in your lap. Buying the Wireless Kit as well as the tablet brings the total cost to almost £125 but it's worth it.
A final word on the Bamboo Dock software: it's a pain in the butt to instal – it took me five attempts on two computers before success – but is quite enthralling once it's up and running. While it makes access to the tablet settings a bit clumsy, its main feature is its set of app-like mini-programs, each designed to work well with a stylus.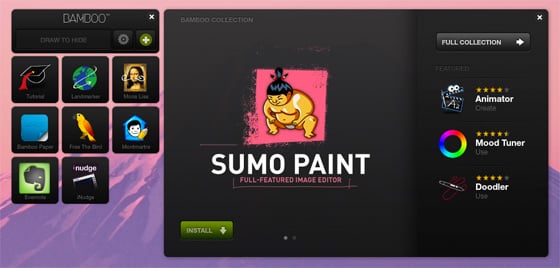 Further apps can be downloaded quickly and they are all free
The apps are mostly silly – with the exception of Bamboo Paper and Evernote – or at least have silly names, but I thoroughly enjoyed playing with them. You can download more apps within Bamboo Dock and they are all free.
Verdict
The Pen & Touch Fun is a very good graphics tablet with an excellent stylus, customisable functions and some enjoyable software. As a touchpad, it is well-meaning and certainly well-featured but prefers deliberate, heavy strokes to (ooh matron) the tickling and flicking that I am used to. Add the Wireless Kit for convenience and comfort: well worth the extra cost. ®
More Input Device Reviews

Logitech
Wireless
Touchpad
IRISnotes
Executive 1.0
digital pen
Ten...
laptop
accessories
Livescribe
Echo
Smartpen
LG
LSM-100
mouse scanner
Sponsored: Minds Mastering Machines - Call for papers now open

Wacom Bamboo Fun S Pen and Touch
An entertaining playtime scribbler with a good range of touch gestures
Price:
£90, optional wireless kit £35 RRP