Asus Eee Pad Transformer Prime Android Tablet
First Nvidia Tegra 3 five-core fondleslab
Review It's only been a little over six months since the original Eee Pad Transformer landed but Asus has already launched a new model that advances the breed to such an extent that the original model appears obsolete and with it every other 10in Tegra 2 Android tablet on the market.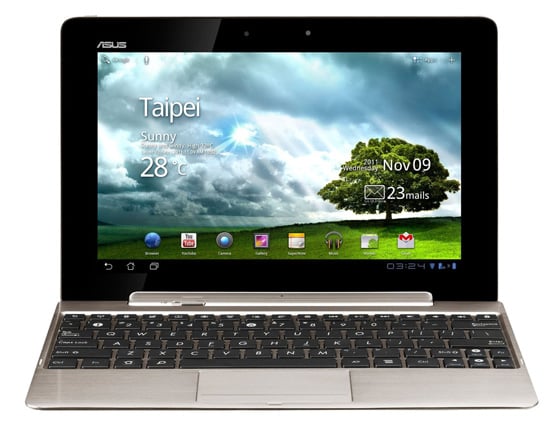 Asus Eee Pad Transformer Prime TF201 Android tablet and dock
In every way, from power to design, from build to performance, the Transformer Prime redefines what we can expect from a top-end Android tablet and, to cap it all, the price isn't too steep either.
To earn it's epithet Asus has put the Transformer on a crash diet resulting in a class-best thickness of 8.3mm, 0.3mm less than Samsung's Galaxy Tab 10.1. At 586g the Asus gives away 21g to the Samsung, but what's virtually nothing between friends? The Prime is both thinner and lighter than Apple's iPad 2 though.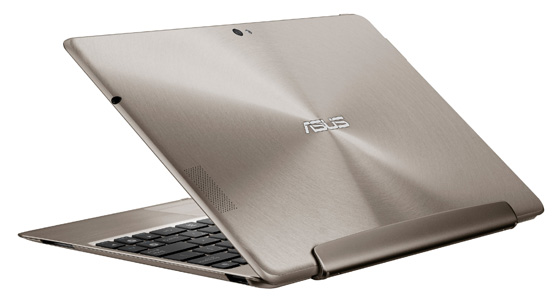 Zenbook styling adds a touch of class to the tablet
To keep everything solid the Prime has an aluminium chassis complete with Zenbook-like pattern on the back. It all looks and feels quite superb. The quality of manufacture continues to the dock, which is also built like a brick outhouse and the speakers which deliver a rich and punchy sound.
The screen hinge-cum-dock connector is especially worthy of comment - it holds the tablet firmly in place at all times but is still easy to unlock and remove. Fold the whole thing up and there's no fear of the "screen" coming adrift. The Prime's connectivity suite is rather limited compared to fatter tablets like the Toshiba AT100 so you have to make do with just micro-HDMI, 3.5mm audio, Asus' own 40-pin dock/charge/data connector and a MicroSD slot.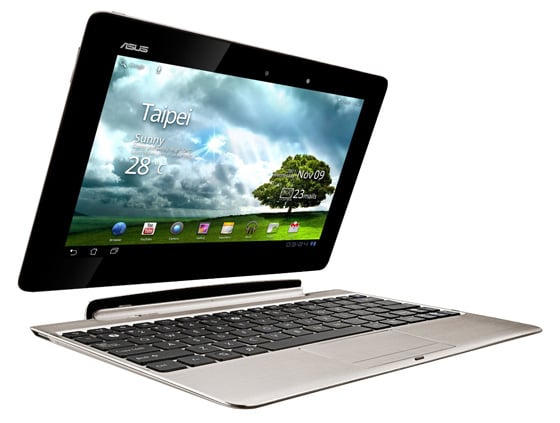 The Mobile Dock offers additional connectivity and battery power
As I've said before, I'd never buy a tablet without built-in and full-sized USB and HDMI ports but perhaps that's just me being an old fart. On a more positive note the dock adds an SD card and USB port to that list.
COMMENTS
It's a very strange sensation to feel that I really /want/ one of these blighters but really can't imagine any time when I'd actually /use/ the thing.
Take it to the Apple store and have a round of 'can your tablet do this..........."
"announcing its predecessor"
Predecessors aren't generally announced, on account of them already being released and known.
Wait for proper GPS fix
Like the original Transformer, it looks like the Prime has a hardware issue. The GPS reception is weak due to the metal casing. A bit of a "Doh!" moment there Asus.They have released a new driver which improves it, but Asus will no doubt release a new hardware revision to fix the problem properly.
It is a shame they've tried to cover this up again (pulling the listing of GPS from the online specification is really rubbish Asus). They should have learnt from their experience trying to hush up Transformer issues. I guess the usual fear of ridiculous a class action is the cause.
The pre B5OK hardware Transformers had a problem whereby the battery drained to zero in 3 days even when the unit was switched right off. Asus sneaked out new hardware revision which sorted the problem. They tried to keep it quiet, but luckily a very public Facebook campaign forced them to offer to RMA the older affected units. Facebook does have it's uses then ;)
Keep an eye on the XDA Developers Prime forum to see if a new hardware revision is quietly released that properly fixes the GPS issue.
Apart from this problem though, I've had a play with a Prime though it really does deserve the rating given by El Reg. Asus should sell them by the bucket load.
One, two, three...
This is the second transformer and the third is on the way (with even more pixels and a working GPS). All within less than a year.
I don't know about others, but I just can't buy any of these. First, a tablet is very much a luxury, so I don't have to buy one. Second, as soon as you could buy one nice model the next and better one is already coming, which makes waiting very tempting. Third, the apps are still lacking. Most of them are just the usual smartphone apps on a larger screen.
I'm still looking at all this with a kind of bored fascination.