More Brits desert high streets to spend £50bn online
Unmerry Christmas for Comet, bonanza for eBay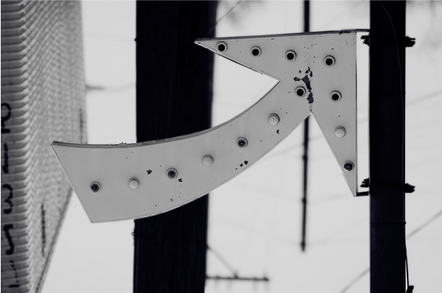 Evidence of the agonising demise of Blighty's high streets piled up today as comparison website Kelkoo announced that UK e-sales jumped 14 per cent to nearly £50bn last year.
The average Brit web shopper spent about £1,400 online, picking out 39 items, in 2011 - and Kelkoo is predicting that's going to rise again this year.
Kelkoo is forecasting that the UK will satisfy its shopping urges online to the tune of £56.5bn this year, with each punter spending about £1,450 on 43 items.
"It's natural to see consumer appetite for online shopping growing year on year," Richard Stables, CEO at Kelkoo, said in a canned statement. "This is not because people are spending more money but because they are shopping in the most convenient and affordable way for their individual needs."
The website says the trend is similar throughout Europe: online sales across the continent rose 18 per cent to €200.52bn in 2011, growth that is expected to reach €232.76bn this year.
"Inevitably, this will have an ongoing negative impact on the high street, an issue which is forcing retailers to bring the two channels much closer together," he added.
Kelkoo's optimistic predictions are borne out today by the quarterly reports of online tat bazaar eBay and high street chain Comet.
eBay announced pleasing figures for the last three months of 2011, when its net income rose to $1.98bn from $559m in the final quarter of the previous year. Admittedly, some of that tidy pile of cash came from the sale of its remaining stake in Skype. However, leaving aside those gains and items such as stock-based compensation expenses, income still rose 41 per cent to $789m.
Even though eBay is doing well, it's staying calm on its future forecasts as it can't expect to emerge totally unscathed from the second dip in the downturn and the Euro crisis. It's expecting revenue of $3.05bn to $3.15bn in the three months ending in March and full year revenue in 2012 of $13.7bn to $14bn, compared to full year reported revenue of $11.65bn in 2011.
Meanwhile, things are looking gloomier than ever over at Comet, the high street tech retailer owned by French firm Kesa Electricals. The Christmas period was not good to the UK chain, with like-for-like sales dropping 14.5 per cent.
Kesa has already agreed to offload the loss-making outfit to a private equity firm for the princely sum of £2, but the new figures have increased its debts over the agreed threshold by £10m to £15m, costs that Kesa will have to bear.
The deal is due to be completed on 3 February.
The results aren't too surprising, given we've already heard bad news from Dixons, owner of PC World and Currys, who said its like-for-like sales were down 7 per cent in the UK and Ireland over Christmas.
Apart from the tech industry, other UK retailers have also reported feeling the pinch over the holiday season, with Tescos, Homebase, Mothercare and Argos all announcing less than merry Christmases, while others including Sainsbury's, Primark and Marks'n'Sparks not doing too bad overall. ®
Sponsored: Minds Mastering Machines - Call for papers now open