Netgear ReadyNas Duo v2 network storage
ARM twist tactics
Remote control
ReadyNas Photos II is Netgear's Flickr/Picasa/Photobucket replacement, essentially a photo sharing service that you run from the comfort of your own home. I can certainly understand the appeal to folks who don't like giving their intellectual property away to third parties, such as Facebook. You also get iDevice and Android support to view and upload directly from your mobile as well as the ability to network with Eye-Fi equipped cameras.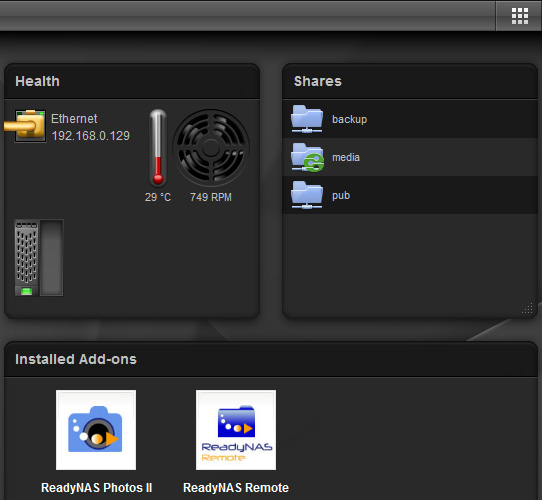 Dashboard
ReadyNas Remote is a neat little service that runs on both the ReadyNas server and the PC/Mac you want to connect with. As the name implies you get remote access to your files anywhere with an Internet connection, and best of all you don't even need a static IP or dynamic DNS service.
As the service runs on the ReadyNas it connects to Netgear's servers allowing any authorised client to also connect to it using the ReadyNas service. It's also very unobtrusive, just a small popup window to let you know that the connection is established and the ReadyNas shares will appear as folders in Windows Explorer (or Finder if you're a Mac user).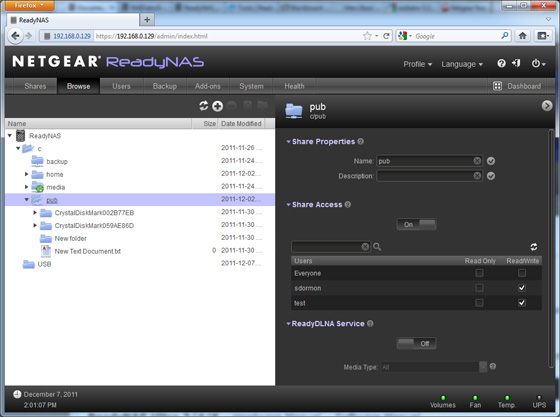 File browsing
To test Netgear's claim of 96MB/s reads and 60MB/s writes I ran Crystal DiskMark to find that the sequential read ability isn't quite up to par at 64.2MB/s, but the writing ability certainly is at 67.9MB/s. I also tested the USB 3.0 performance using a Kingston DataTraveler drive. This combination sped along such that taking the latest copy of your multi-gigabyte project with you is no longer the transfer tedium it used to be.
While the read performance and current lack of add-ons for the new ARM platform are disappointing, I still think I would be keen to recommend the ReadyNas Duo v2 in its diskless form that can be yours for £150. I'm not convinced the populated options are really worthwhile given the rather high cost compared to buying separate disks, just bear in mind that with this particular model there's a 6TB storage limit, although that has more to do with 3TB being largest capacity of 3.5in drives that are readily available.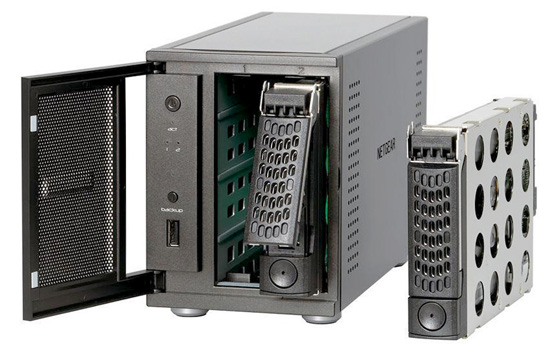 A nifty Nas with a lot of potential
Verdict
The one thing that I can say for sure is that the Duo v2 has the potential to go from being a good Nas box to an excellent one, provided the community can catch up and bring ARM support to the vast library of add-ons that have defined the ReadyNas line. ®
More Storage Reviews

Samsung
SSD 830
LaCie
LaPlug
Western Digital
My Passport
Studio
Ten…
Desktop
USB 3.0 HDDs
Ten…
Portable
USB 3.0 HDDs
Sponsored: Minds Mastering Machines - Call for papers now open

Netgear ReadyNas Duo v2 network storage
ARM-based Nas box with two drive bays and a nifty interface.
Price:
£150 (Diskless), £300 (1TB), £400 (2TB) RRP