Dizzy: the Ultimate Cartoon Adventure Part Deux
The agony and the eggstacy
Disco tech
And it didn't matter anyway. In a cruel callback to the previous game, upon rescuing Daisy, the ungrateful witch would wave you away to find 30 gold coins to buy a house and live "happily ever after".
If this game was made today, there'd be an option to ditch the gold-digger and remain single.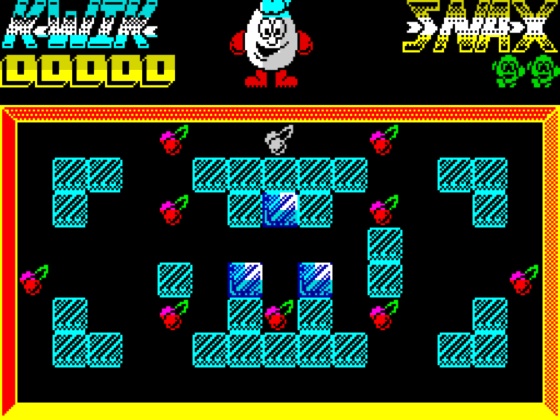 Grub up
There was a spiritual successor to Fast Food in the form of Kwik Snax [sic], which utilised the same engine, but involved pushing blocks around to fell enemies and obtain the titular "snax". Whilst it sadly didn't retain the simple cartoony charm and character of Fast Food, it was a nice diversion.
Another spin off was Dizzy Panic! At the Disco, a surprisingly tricky puzzler which saw you inserting objects through appropriately-shaped holes. Please add your own innuendo in the comment section.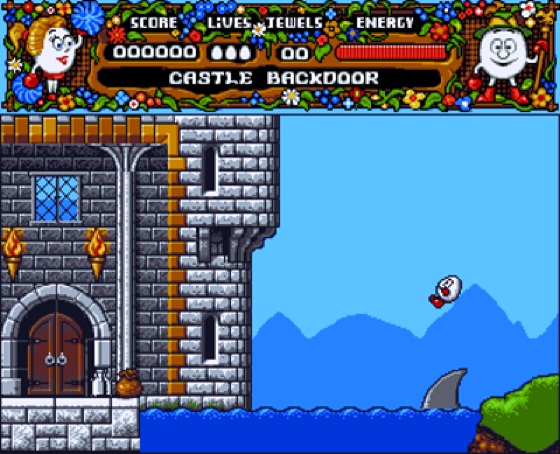 One man went to moat
The fourth adventure game, Magicland Dizzy, saw The Oliver Twins hand the development baton to Big Red Software. The result was more a slight refinement of the series, and basically brought us more of the same. This time, the original antagonist Zaks was back with a floppy-sleeved vengeance, and had cast some delightfully apt spells upon the Yolkfolk.
For example, Dylan is rooted to the floor, quite literally becoming one with the earth, Denzil is so cool that he's now entombed in ice, and... well, you get the idea. While the classic fairytale aesthetic was pleasant enough, it lacked the macabre feel of the original game. The relentlessly chipper in-game music didn't help either.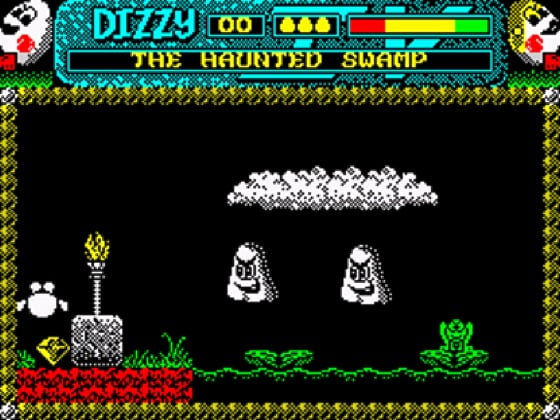 Mire, oh mire
By the time the fifth game, Spellbound Dizzy, was released, I'd acquired a Sega Mega Drive, and I didn't commit nearly as many hours to my once beloved series, so to this day I never have completed it. It was easily one of the biggest and hardest of its ilk, sporting over a hundred screens, and bafflingly, introduced the facepalm-inducing notion that Dizzy would lose energy if he landed from a great height.
A sign of old age, perhaps? It also had a really unnerving "nyam nyam" animation whenever Dizzy ate a health-regenerating apple. I did rediscover it in uni in the form of a Speccy Emulator, and there was a long-forgotten spark of nostalgia there, but I guess it had dissipated.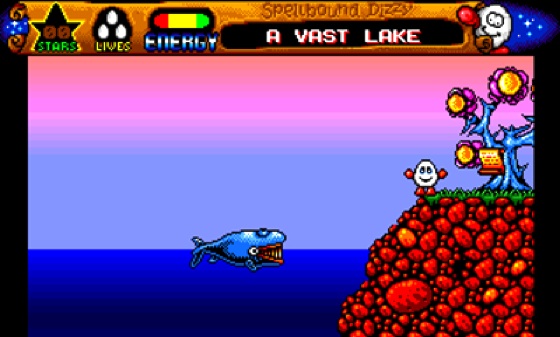 Have a whale of a time
Here's hoping the current iOS remake of the sixth game, Prince of the Yolkfolk, which completely passed me by at the time of its release, can do something to recapture the magic.
Well, that's two reviews on a game series about eggs, and I tried my darndest not to make any egg-themed puns. It was pretty tough going, but I think I cracked it... ®
Antique Code Show is published every two weeks on Wednesdays
Developer The Oliver Twins, Big Red Software
Publisher Codemasters
Year of release 1986
Platforms ZX Spectrum, Amstrad CPC, Commodore 64, Amiga, PC, Sega Mega Drive, Atari ST
More Retro Games

Rainbow
Islands
Doom
Lemmings
Flashback:
The Quest for
Identity
X-COM UFO:
Enemy Unknown
Sponsored: Minds Mastering Machines - Call for papers now open