Dizzy: the Ultimate Cartoon Adventure Part Deux
The agony and the eggstacy
Antique Code Show For my money, one of the greatest games ever made for the Amstrad CPC was Fantasy World Dizzy. At age seven, I was positively ravenous for my fix of Dizzy's latest adventures, and my brimming fervour to play it was good training wheels for the likes of Sonic 2 and Street Fighter II: Special Champion Edition.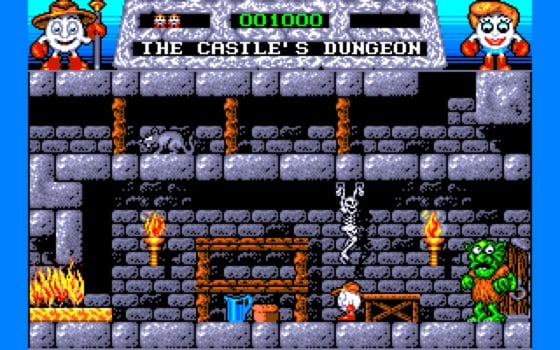 You gotta Troll with it
After the gothic, Tim Burton-esque Dizzy, and the tropical Treasure Island, this chapter saw the emergence of a more fairytale aesthetic featuring dragons, a castle built on clouds, and magical beanstalks - a vibe that would stick with the series indefinitely.
Even the very first room was ingenious in setting such a scene. Armed with naught but a shiny apple, you're dumped in a dungeon with no discernible means of escape, save for some mouldy bread and a jug of water...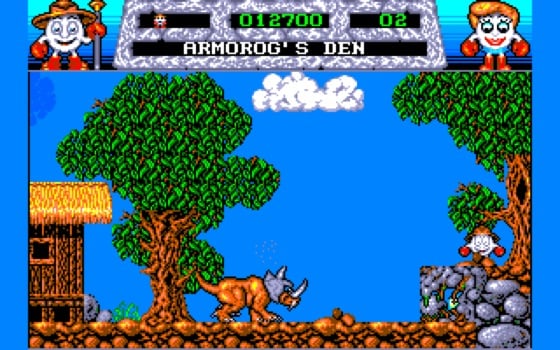 Horny beast
The plot was a slightly more derivative affair than the previous two games, kind of a mashup of already-established fantasy tales, with added egg. Dizzy's love interest, Daisy - see what they did there? - has been kidnapped by the King Troll, and it's up to you to go rescue her. We never actually see this King Troll, so the omnipresent threat of a baddie such as Zaks is lacking.
The scope of the game had broadened considerably by this point, as we were finally introduced to the hitherto-unseen Yolkfolk. What was brilliantly contrived about them was their casual inability to come along for the ride, as the 8-bit systems of the time presumably couldn't handle a Tails-like figure poodling along in your tread.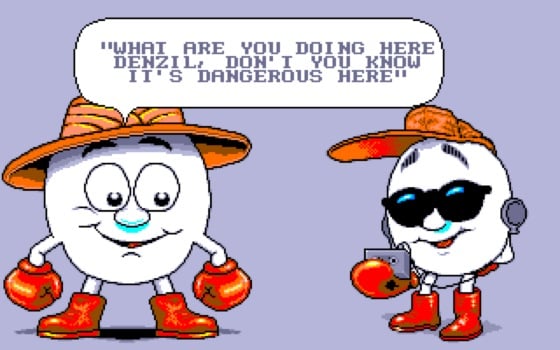 Meet the Yolfolk
Dozy is a narcoleptic who can't be roused despite being punted into the sea, never to be seen again. Hippy Dylan - natch - is presumably too intoxicated to get up. Fonz-like Denzil is too busy adjusting his shades and returning your rope (?). And Granddizzy - strewth, they were really burning the midnight oil thinking up these names weren't they? - who almost springs to Dizzy's aid before being told to take it easy in his old age, is about as much use as a cat flap in an elephant house.
Learning their lessons from the previous two games, the coders ensured Fantasy World was thankfully bereft of most game-shattering bugs. However, there was one which actually made the game phenomenally easy to complete. It basically involved growing a beanstalk from a patch of cowpat, leading directly to your imprisoned squeeze.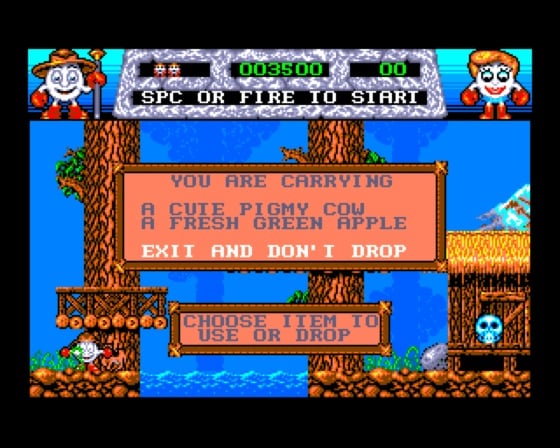 Yeah, but where did he keep all that?
Thing is, you don't actually need to plant the bean. By merely chucking a bucket of water, an item you can acquire early on in the game, over it, the beanstalk would grow anyway. I only discovered this by accident after childishly wondering if I could make the manure even sloppier by getting it wet. Oh, the filthy imaginations we had in those halcyon days.
COMMENTS
Best game I ever played on CPC was Sorcery, closely followed by Knightlore. PS Anyone want to buy issue 1 of Amstrad Action?
Technological pedant says...
The 6845 is pretty much just an address generator (though for completeness, it also generates sync and a hardware cursor); it's up to other components to figure out what to do with the address. The CPC swaps some of the bits around to give linear scan lines — a huge improvement on the BBC — fetches the byte and applies the current entries from its three-levels-per-channel 27 colour palette — also a huge improvement on the BBC.
So, technically, the 6845 isn't the cause of the CPC's superior colour handling.
Others are from the spectrum version, you can tell from the horrible colour attribute bleeding and simplified border to try to avoid it. The CPC's video chip was the far more capable 6845 which it shared with the BBC Micro.
Fantasy World Dizzy
Loved this one (played the PC version). Completed it multiple times, although I was never aware of that cowpat cheat.
However... I could never find the 30th bastarding coin. Collected 29 coins, and one more was marked on the map on the old oak tree screen, but could never figure out how to get it. I suspect it was a bug with the PC version.
Doubt I'd have the patience for such a relentlessly pixel-perfect-movement punishing game nowadays.
Particularly noteworthy...
The noteworthy thing about these three is that I believe they're all parts of the NES release "The Fantastic Adventures of Dizzy". It had multiple worlds, and a the end of one, Dizzy was made to walk the plank by a pirate, and had to escape from the sea by jumping on bubbles. I don't know what the reason was for the Toobin' clone stage (that became Dizzy Down the Rapids).