Steve Jobs action figure kicks the bucket
GI Jobs KIA
The Steve Jobs action figure project has been killed, although this time there was no "Oh Wow" moment, and the move was hardly a shocker.
The 12in figurine drew much attention when Chinese sculpture maker InIcons announced plans to bring the 'GI Jobs' to retail in February.
Unsurprisingly, Apple got rather annoyed about the unlicensed doll and had its lawyers send the manufacturer a stern letter threatening legal action should the toy ever hit shop shelves.
The warning was soon debunked as a baseless threat, InIcons has now decided to can the action figure anyway, claiming to have done so out of respect for the late CEO's family.
"Though we still believe that we have not overstepped any legal boundaries, we have decided to completely stop the offer, production and sale of the Steve Jobs figurine out of our heartfelt sensitivity to the feelings of the Jobs family," said Tandy Cheung, the man behind the project.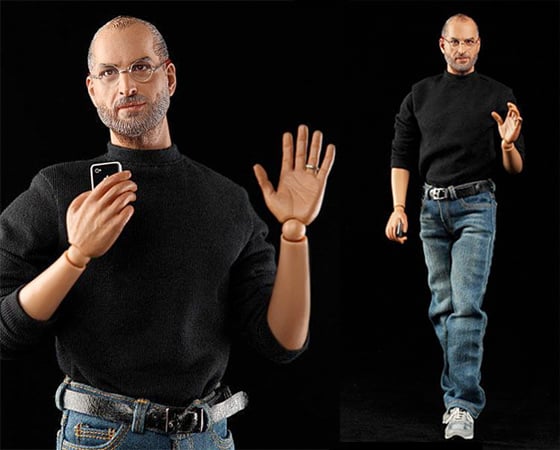 While the collectable, equipped with trademark poloneck, jeans, grey trainers and John Lennon specs will not be coming to market, a couple of batches did make it out of the factory and have already cropped up on eBay for a predictably larger sum of money than the $100 (£64) price originally proposed.
Yes, if you still feel a burning desire to get your mitts on this poseable Jobs, you may have to fork out $2500 (£1625). Oh Wow. ®
Sponsored: Minds Mastering Machines - Call for papers now open