Original URL: http://www.theregister.co.uk/2012/01/16/review_htc_explorer_android_smartphone/
HTC Explorer budget smartphone
The Android for noobs
Posted in Phones, 16th January 2012 12:00 GMT
Free whitepaper – Hands on with Hyper-V 3.0 and virtual machine movement
Review The latest from startlingly prolific smart phone manufacturer HTC won't be top of the list for mobile aficionados. It's a basic entry-level Android with middling specs though these are still probably a cut above its bog-standard price. But for smartphone newbies, what it offers may prove to be more than enough.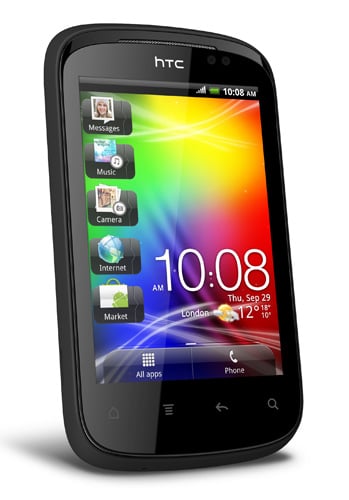 Raising the bar for entry-level mobiles: HTC's Explorer
It's a compact little number with rounded edges and a casing of soft, rubberised plastic – not quite the ruggedised exterior you might have expected from the outdoorsy name, more kind of cute and cuddly. For this Explorer isn't really intended as a guide to the great outdoors, but an entry to the brave new world of the mobile internet.
The sensitive 3.2in touch screen offers a perfectly adequate 320 x 480 pixels – it's fine for surfing the web and even viewing movies won't cause too much eyestrain, though it's obviously well behind the best in the field.
You can add whatever shortcuts and widgets you like to each of the seven home screens, and all the usuals you'd expect on more expensive HTCs are here, including the FriendStream social networking coordinator.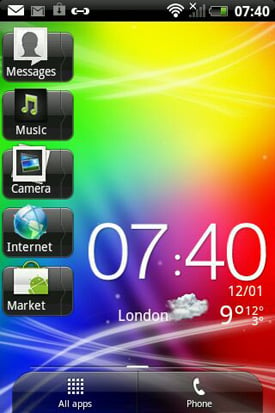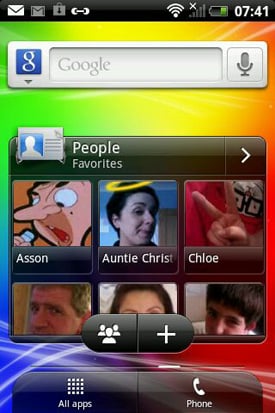 Homescreen and contacts
The central home screen also now features a selection of five programmable shortcuts ranged down the side, as well as soft keys for all apps and, lest we forget, the phone. Call quality is fine too, so there's clearly no need to compromise on basic phone duties.
HTC has gone out of its way to make things easier for new Android users. The icons in the messaging app come with written explanations, for instance, rather than expecting you to figure out what the symbols for compose and forward mean.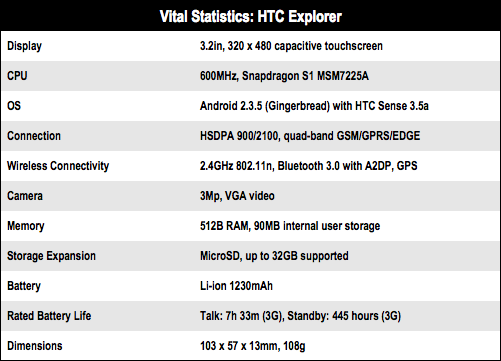 ---
Low power, long life
The rather dinky 600MHz processor is the latest S1 Snapdragon from Qualcomm [1] – an efficient low power design intended for the current crop of entry-level smarties, such as the Explorer. It is backed by 512MB RAM and while it won't win any races, it did a decent job within its limited capabilities.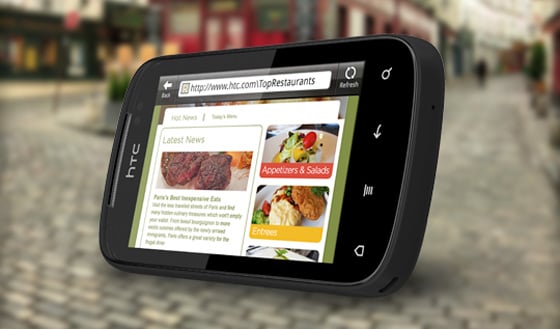 Not the fastest, but certainly capable
The Explorer runs Android 2.3.5 Gingerbread plus the current 3.5 version of HTC's Sense interface [2], but cleverly, it actually uses the 3.5a version which cuts out some of the power and processor-hungry 3D graphics from the home pages and menus, the upshot being that less powerful phones like this don't slow down too much.
It's noticeably slower at browsing the web than fancier phones with 1GHz processors, but it's not so bad that you feel like twiddling your thumbs. It's also a good idea to keep an eye on how many apps you have running in the background – the Task Manager app makes it easy to shut anything down that you're not using.
The 3Mp camera is nothing to get too excited about, with not terribly accurate colour balance and poor performance in less than perfect light. There's no flash and not many settings to play with, though you can adjust for white balance, sharpness, saturation, contrast and exposure. Maximum resolution is 2048 x 1536 pixels, but drops to 640x480 pixels for video.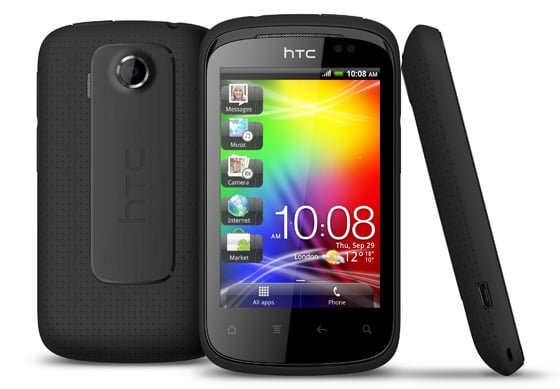 The revamped Snapdragon CPU on-board keeps it going around the clock and then some
Despite the relatively modest specs, it still has 3G network connectivity, Wi-Fi and GPS – all good tools for showing you what a smartphone can do. There's only 90MB of user memory on board but you can boost the storage to 32GB with a microSD card, though there's none supplied. It doesn't come with headphones either, so you'll need to supply your own for listening to music.
Verdict
The advantage of a relatively low-powered screen and processor is that the modest 1230mAh battery should be able to go a few times round the block without a recharge and sure enough, this one gave a little over two days of consistent use. Indeed, the HTC Explorer covers just about all the smartphone basics very well at a decent price making it a good introduction for Android newbies. ®
More Smartphone Reviews

HTC
Sensation XL [3]
Samsung
Galaxy
Nexus [4]
Ten… Androids
to outshine
the iPhone 4S [5]
Motorola
Razr [6]
Apple
iPhone 4S [7]