Apple touts touch-free perspective-powered 3D tech
Patent potential
Apple patents aren't always an indicator of the tech just around the corner, but it doesn't stop the rumour mill latching onto them as evidence of such.
The latest report to spring up is Apple's apparent plans to introduce motion sensor gesture controls into future iOS devices and redesign the way a user interacts with a 3D environment.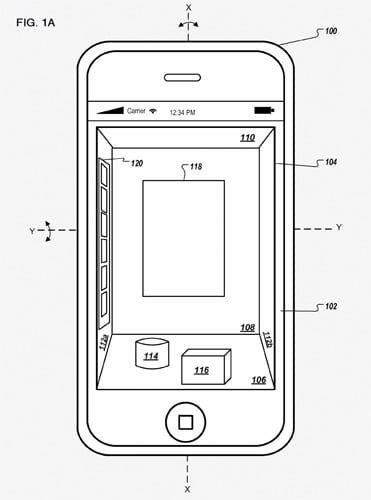 The evidence bases itself on a recently-published Apple patent, suggesting users will be able to scroll through menus and select content, engaging touch-free through a device's built-in proximity sensors, Patently Apple reports.
While this has been mentioned in previous patent applications, Apple takes things further here, delving into plans to use the tech in advanced 3D UI environments.
The Cupertino colossus proposes to change the orientation of a 3D scene based on a user's perspective in relation to the device. As a handset is rotated, the environment would follow in three-dimensional movement as if a user was literally looking around the room.
Again, this isn't the first time the company has submitted patents related to 3D GUI, and we all know these things should be taken with a pinch of salt. Still, it certainly pours more fuel on the fire and it's difficult not to speculate that Apple will consider a push into 3D at some stage. ®
COMMENTS
"Apple patents aren't always an indicator of the tech just around the corner"
No, they're more commonly an indicator of existing tech created or dreamed up by someone else.
So how soon will it be
Before Trillian can turn your iPhone off by chucking a pencil in front of it?
But isn't that just Kinect?
As usual
There's likely to be a ton of prior art. For a start, that guy who used the Wii controller to change the perspective of the stuff on screen actually demonstrated it, as opposed to filing yet more monopoly claims and simultaneously squealing about people "copying" and how "genius" their fruit-branded organisation is.
I suppose Apple has a working prototype when the patent is granted...