Fiddle factor
Rear controls are similar to most enthusiast cameras with the inclusion of discrete buttons for white balance, RAW capture and exposure lock. A rotating thumb wheel doubles as a four way cursor control although I found this quite fiddly to use, mainly due to its size. A 2.8in LCD monitor with 460k dots sits below a high-quality glass optical viewfinder which zooms in tandem with the lens. While a panel with double the resolution would be a nice touch, if you're really old school you'll be using the viewfinder mostly, which has 85 per cent coverage, and using the 100 per cent view screen for checking shots.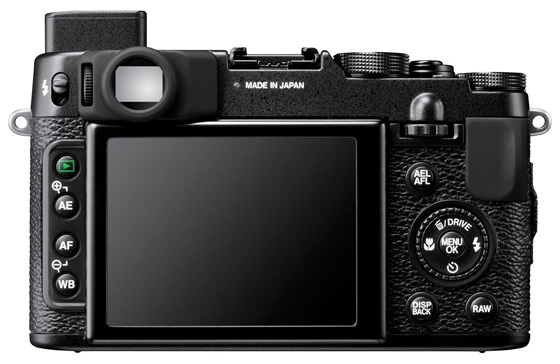 Dedicated buttons take care of the usual suspects
The X10 comes with an impressive, though non-interchangeable, 7.1- 28.4mm zoom lens equivalent in 35mm terms to a 28-112mm zoom. It's impressively bright, with a maximum aperture of f2 in wide angle at f2.8 at the telephoto end. This is a versatile lens with a very close minimum focusing distance in super macro mode. As you can see from the sample pictures, a five pence piece very nearly fills the frame height.
Unlike most electronic push-button zooms it's manually operated, as on a traditional SLR. This makes it smoother and more accurate while providing a stronger physical connection with the camera and silent operation while shooting video, which the X10 can provide in up to 1080p resolution at 29.97 fps. You also get to capture in slow motion at up to 200fps although at ever-decreasing resolutions.
Its unashamedly retro styling leaves you somewhat unprepared for the huge amount of technological wizardry within. Despite its hands-on manual control aesthetic, it's packed with advanced image-enhancement options and methods of tweaking the exposure absent on even the latest professional DSLRs.
Internally, the X10 uses Fujifilm's 2/3in EXR CMOS image sensor. This is no SLR-sized device but it is considerably larger than the sensors you would usually find in a compact camera, affording the camera greater sensitivity and a little bit of a head start when attempting to create shots with a narrow depth of field.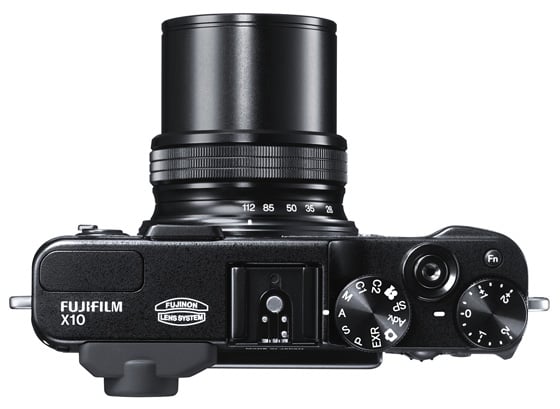 A traditional hotshoe enables external flash use – there's even a cable shutter release provision
The EXR technology in the sensor allows the camera to optionally devote half of the available twelve megapixels to averaging out image noise in low-light situations or to capture a shorter exposure simultaneously with the main exposure, enabling greater dynamic range to be captured. This can bring back shadow and highlight detail that might otherwise have been lost. These modes are selected using the dedicated EXR position on the mode dial. There is a catch though, these EXR modes use the sensor to combine pixels, the final image in both cases is 6Mp in size rather than the maximum 12Mp the X10 can deliver when EXR is inactive.
COMMENTS
The LX5 lets the camera preselect which pixels to ignore.
With the X10, you can crop whatever shape you like from all the pixels.
However, a better question might be, why aren't all sensors 1:1? (preferably circular). Then we wouldn't ever need to turn cameras through 90 degrees.
Great sounding camera
Clearly not a snap-shooter camera, but a tool for someone who doesn't want to use an SLR.
However. If only they'd put a bigger sensor in it would seem so much more worthwhile. Yes it would have been even bulkier, but I doubt that will affect target market much.
What I wish is that somebody would cotton on that the sort of person who buys a camera at this level doesn't need a zillion modes, heavy in-camera processing (they'll already have a favourite package) and all the rest. Instead that they'd make a camera in which image quality was paramount, with a small number of modes (the classic 4) to make handling effortless, logically places dials and buttons (like this seems to have) fast & sharp 5X optical zoom and an excellent anti-shake system.
I might wait around until this becomes 'last years model' to try to get one at 1/2 price. Jacket because I'm putting my wallet back again.
Object of beauty? Stylish? I might find myself in a minority given preceding comments but that has to be the most ugly looking camera I've seen in the last year. I know that beauty is entirely subjective but radical examples like this just serve to remind me how different we as human beings can be.
To potential downvoters, don't downvote me just because you think this is a beautiful looking camera because that would be to ignore everything I've just said.
A lovely camera but...
...for a compact it's so darned big!
I've been angsting over a new compact for a while and it was between this and the Panasonic Lumix DMC-LX5. Both are excellent performers for image quality, features/manual control and build quality. I was tempted by the optical viewfinder of the X10 (the lack of which seems to me to be the LX5's only failing) but when you pop it in a moderately robust case to take into the hills, etc. it's enormous. Also the 24mm wideangle of the LX5 is very handy.
p.s. I know you can get a hotshoe optical finder for the LX5 - but it's £170!
Simples
For the simple reason that while 16:9 makes for good video, it is often TERRIBLE as an aspect ratio for a photo composition. The vast majority of photos are of people - either their faces, or their bodies - both of which are usually vertical, and narrow. Unless you have a predilection for landscape photos or panoramas, most of your subjects will want a format that is much closer to square than 16:9.