Fujifilm Finepix X10 compact camera
A curious case of bountiful buttons
Review Pulling out a Fujifilm X10 in mid-conversation will often elicit a rapid change of subject. Common responses include, "Oh, now what sort of camera is that?", "Is that a Leica?" and frequently, "Let me have a go!". The last of these is one to be relished as, should you hand over the camera, there's a very strong possibility that they won't be able to work out how to switch it on.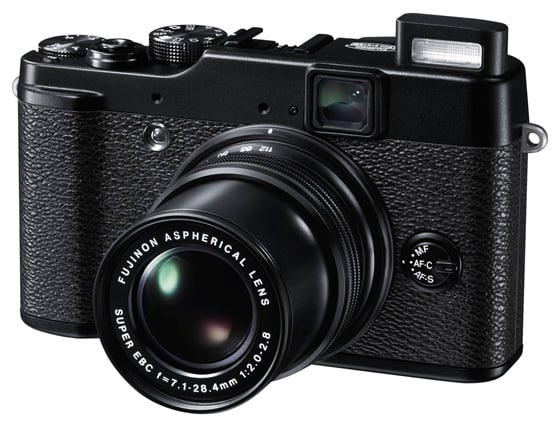 Old school styling: Fujifilm's Finepix X10
That's not to say the camera is difficult to use: it can go fully-automatic with a simple turn of the mode dial but, although well-off lovers of pricey designer goods and other sundry objects of beauty will no-doubt find the X10 hard to resist, this is a camera that's most definitely aimed at lovers of photography.
There's a long-standing and successful market for the 'serious' compact camera: others which would fall into this category are The XZ-1 from Olympus, Canon's G12 and the Nikon P7100. These cameras offer broadly similar specifications, but neither comes anywhere near close to the level of style and desirability offered by the X10.
Its all-black leather-clad magnesium body is festooned with knobs and dials that sit just where they would have done on a classic manually-operated camera. However, no less than eleven distinct operating modes feature on the mode dial – a big hint as to just how feature-rich this camera is. In addition to the usual PASM options is pair of user-programmable custom modes along with scene mode, video, fully automatic and special modes devoted to the cameras more esoteric functions.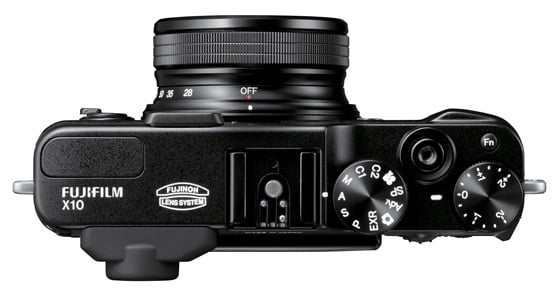 Dial in your preferences
Next to the shutter release is a second dial dedicated purely to exposure compensation and a convenient programmable Fn button sits just above it. A full-size flash hot shoe sits in the middle of the top plate and is complemented by a built-in pop-up flash – although this is admittedly one of the tiniest I've ever seen.
COMMENTS
The LX5 lets the camera preselect which pixels to ignore.
With the X10, you can crop whatever shape you like from all the pixels.
However, a better question might be, why aren't all sensors 1:1? (preferably circular). Then we wouldn't ever need to turn cameras through 90 degrees.
Great sounding camera
Clearly not a snap-shooter camera, but a tool for someone who doesn't want to use an SLR.
However. If only they'd put a bigger sensor in it would seem so much more worthwhile. Yes it would have been even bulkier, but I doubt that will affect target market much.
What I wish is that somebody would cotton on that the sort of person who buys a camera at this level doesn't need a zillion modes, heavy in-camera processing (they'll already have a favourite package) and all the rest. Instead that they'd make a camera in which image quality was paramount, with a small number of modes (the classic 4) to make handling effortless, logically places dials and buttons (like this seems to have) fast & sharp 5X optical zoom and an excellent anti-shake system.
I might wait around until this becomes 'last years model' to try to get one at 1/2 price. Jacket because I'm putting my wallet back again.
Object of beauty? Stylish? I might find myself in a minority given preceding comments but that has to be the most ugly looking camera I've seen in the last year. I know that beauty is entirely subjective but radical examples like this just serve to remind me how different we as human beings can be.
To potential downvoters, don't downvote me just because you think this is a beautiful looking camera because that would be to ignore everything I've just said.
A lovely camera but...
...for a compact it's so darned big!
I've been angsting over a new compact for a while and it was between this and the Panasonic Lumix DMC-LX5. Both are excellent performers for image quality, features/manual control and build quality. I was tempted by the optical viewfinder of the X10 (the lack of which seems to me to be the LX5's only failing) but when you pop it in a moderately robust case to take into the hills, etc. it's enormous. Also the 24mm wideangle of the LX5 is very handy.
p.s. I know you can get a hotshoe optical finder for the LX5 - but it's £170!
Simples
For the simple reason that while 16:9 makes for good video, it is often TERRIBLE as an aspect ratio for a photo composition. The vast majority of photos are of people - either their faces, or their bodies - both of which are usually vertical, and narrow. Unless you have a predilection for landscape photos or panoramas, most of your subjects will want a format that is much closer to square than 16:9.