Reg Hardware Awards 2011 Winners
The year's best products... and the worst
Reg Hardware Awards 2011 Rusty Dodo Winners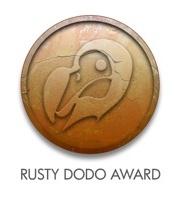 Lifestyle Rusty Dodo
3DTV
Awarded the Rusty Dodo for the second year running, you guys really don't like 3D, according to your votes.
Mobile Rusty Dodo
Apple iPhone 4S
Yes, it polled well in the Smartphone of the Year, gaining a Silver, runner-up award, but Apple's latest handset was also the most disliked offering in the Mobile category.
Computing Rusty Dodo
RIM BlackBerry PlayBook
A clear 'winner' in the Computing category, the poor old PlayBook was also named frequently among the Lifestyle and Mobile Rusty Dodo award suggestions. If there's one product most deserving of this gong, in your opinion, its RIM's tablet.
Gaming Rusty Dodo
Duke Nukem Forever
So many years in the making and with so many false starts behind it, it DNF was destined to disappoint. But it could - should - have been a decent game, at least. You didn't think it was. ®