Ron Paul's web campaign mired in pokey pages
Bettered by Romney (again), POTUS not much better
An analysis of the web-page performance of candidates in the 2012 US presidential elections shows disappointing results for Ron Paul, supposedly one of the more internet-savvy candidates in the race.
Web-optimization specialists Yottaa studied the composition, load speeds, and overall time before a candidate's web site could be used, and ranked the results for the last few weeks. Ron Paul, who has one of the largest online support networks in US, came in at the bottom of the ranks for most of the last week, swapping last place occasionally with President Obama – who, to be fair, has little reason to optimize until he has a real contest on his hands.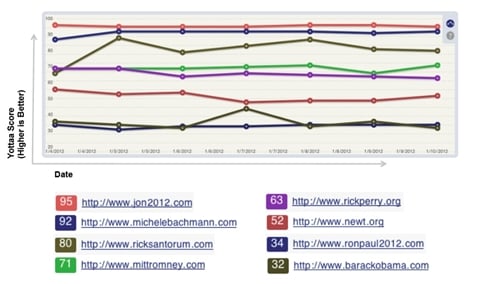 Spot the surge of Santorum (click to enlarge)
Paul's web site is larger at around 3MB, needs 175 data round trips from 20 different domains, and required the browser to create 1351 DOM (document object model) elements for proper rendering. By contrast, Mitt Romney's 558KB site needs just 41 DOM elements and 41 round trips to 15 domains, and scores nearly twice as well. President Obama's site is very work-intensive, needing 125 round trips from 32 different domains and 834 DOM elements.
In business, it has long been recognized that a slow web site is a key part of failing in ecommerce. Internet users have ADD-like attention spans, and a delay of ten seconds in loading a page to a useful state can cost a significant slice of potential customers. But in this instance poor performance could be seen as sign of the success of a social media campaign, at the cost of mainstream-web page performance.
"Politicians are trying to make their websites a lot more social - they're got to share more and more information," Coach Wei, CEO of Yottaa told The Register. "This does mean a higher dependency on third-party websites, and can make web pages unbelievably slow."
The data also shows a surge in the web site performance of the family-values Republican candidate Rick Santorum after his near-victory in the Iowa caucuses. It's possible the site was given a spruce up in anticipation of a flood of Santorum supporters, but that speed boost has trickled away in recent days. ®
Sponsored: Minds Mastering Machines - Call for papers now open