Nuclear Mars tank thrusts hard into perfect position
NASA shows Russians how Phobos-Grunt should have worked
Unlike the broken-down Russian Mars probe Phobos-Grunt, the NASA Mars Science Laboratory is on track for touching down on the Red Planet after smoothly pulling off some well-choreographed thrusts.
In its biggest manoeuvre yet, the floating nuclear science tank - which is carrying shiny new rover Curiosity - fired up to eight rockets for three hours yesterday, effecting a slight change in direction and speed.
This resulted in a change in velocity of 12.3 MPH, keeping the craft on course for a soft touchdown on the Martian Gale crater on 5 August.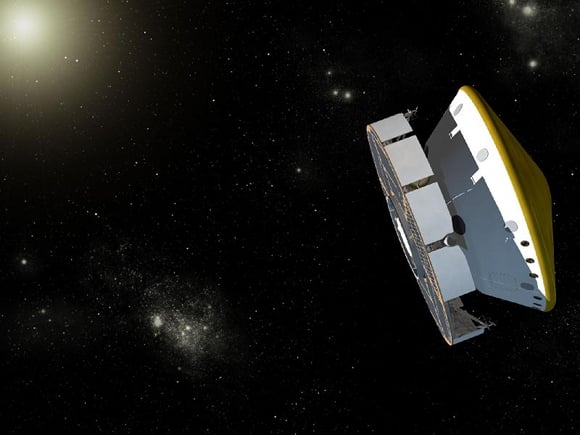 NASA described the carefully timed thrusting required to orient the probe:
The manoeuvre used the eight thruster engines on the cruise stage of the spacecraft, grouped into two sets of four. It began with a thrust lasting about 19 minutes, using just one thruster in each set and affecting velocity along the direction of the axis of rotation. Then, to affect velocity perpendicular to that line, each set of thrusters was fired for 5 seconds when the rotation put that set facing the proper direction. These 5-second bursts were repeated more than 200 times during a period of about two hours for a total of about 40 minutes.
The mission's second trajectory correction manoeuvre, expected to be about one-sixth the magnitude of this first one, is scheduled for 26 March. There will be time for up to four additional adjustments before the probe touches down.
The probe's chosen landing spot is unusual because of an enormous mound in its centre whose sedimentary layers could reveal some of Mars's history. On landing, the space lab will release the jeep rover Curiosity that will roam the surface of the crater collecting samples for analysis. ®
Sponsored: Minds Mastering Machines - Call for papers now open