SGI books $90m in ICE X super orders
Exiting CEO stays on board of directors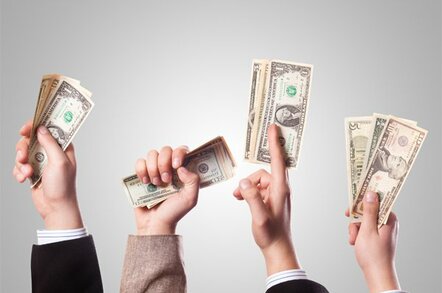 Supercomputer maker Silicon Graphics just lost its president and CEO, Mark Barrenechea, to enterprise content management software supplier OpenText, and therefore it needs to talk up the business while its board looks for a replacement.
The good news coming out of SGI today is that its Xeon E5-based ICE X servers are being well received in the HPC market, with over $90m in new orders. SGI says that this is the "the strongest and broadest customer interest of any new product introduction in the company's history." And more good news: Barrenechea will stick around to help the interim CEO, SGI chairman Ron Verdoorn, find a successor.
The ICE X machines were launched at the SC11 supercomputing conference in Seattle last November and are based on the forthcoming "Sandy Bridge-EP" Xeon E5 processors from Intel. The Xeon E5s will be available in two-socket, and eventually four-socket, servers with up to eight cores and - critically for HPC shops - sporting on-chip PCI-Express 3.0 peripheral controllers that can handle the I/O rates required by the fastest Ethernet and InfiniBand network adapters cards and switches available today.
Intel has been shipping a bunch of the Xeon E5s to cloud and HPC customers through selected OEM server partners since last fall, and has been vague about when they will launch, saying only to expect them in "early 2012." Based on comments made by motherboard and whitebox server maker Super Micro this week, we can expect the formal Xeon E5 launch sometime during the first quarter of this year.
The ICE X machines are the fifth generation of x86 dense-pack blade servers, which were originally a fallback position as the old SGI had trouble going up against inexpensive x86 clusters with its Itanium-based Altix 3700 and 4700 shared memory computers.
The Itanium-based Altix machines used SGI's own NUMAlink interconnect to create shared memory space for HPC apps to frolic within, while the Altix ICE machines used off-the-shelf Ethernet and InfiniBand networks and did not offer a shared memory space across nodes, depending instead on Message Passing Interface (MPI) software to more loosely couple the nodes in the cluster. There is a place for both approaches in supercomputing, but MPI is far more popular because of its relatively low cost compared to proprietary interconnects from SGI, Cray, IBM, and a handful of others.
Barrenechea was running Rackable Systems, a server maker that was popular with Yahoo!, Amazon, and other hyperscale Web operators because of its super-dense, energy-efficient server designs. Then Rackable decided to buy the old SGI in April 2009 for $42.5m and kept the name.
You could argue that this deal saved both companies from oblivion, giving Rackable access to SGI's vast customer base and the company's engineers a mandate to create a better set of products to chase customers in the HPC and cloud arenas, who are wrestling with many of the same performance, power, and cooling issues.
The ICE X machines are among the most interesting and innovative designs that SGI (old or new) has brought to market. The company could not be terribly specific about their performance when it previewed the machines back in November, but it shared its two-socket "Dakota" and double-stuffed "Gemini" blades and showed that it would be able to cram as many as 144 nodes - plus all the necessary InfiniBand networking and power distribution for the gear - into a single rack.
And that's with the Gemini blades; you can only put 72 of the Dakota blades into a rack, but these blades have twice as much main memory and disk capacity and can run hotter Xeon E5 processors. El Reg detailed the ICE X feeds and speeds here.
The prior generation Altix ICE 8400 machines could only put 64 nodes in a rack, and the Xeon 5500 and 5600 chips they supported had fewer cores (at either four or six compared to the eight-core Xeon E5s), did fewer floating point operations per clock (the Xeon E5s have AVX instructions), and only pushed PCI-Express 2.0 peripheral slots (the Xeon E5s support PCI-Express 3.0 from the processor itself and have twice the I/O bandwidth at 16GB/sec for an x8 slot.)
Given all this, it is no surprise at all that SGI has taken $90m in orders for the new ICE X machines. But it's probably not good news for the product manager for the Altix UV shared memory systems, which are based on Intel's Xeon 7500/E7 and the SGI NUMAlink 5 interconnect.
The Altix UV machines previewed at the SC09 supercomputer conference in Portland in November 2009 and started shipping the following June. Last year, SGI was boasting that it had sold more than 500 Altix UV machines, including small four-socket models (UV 10) as well as midrange (UV100) and high-end (UV 1000) shared memory models. The company did not provide revenue figures.
SGI had also spent some effort getting Windows Server 2008 R2 Datacenter Edition ported to the UV100 and UV1000 machines, pushing the limits of Windows scalability and offering the combo as an alternative to big RISC/Unix or proprietary systems from IBM, HP, Oracle, and others.
SGI's main customer for the Altix ICE and now ICE X lines is, of course, NASA's Ames Research Center, which was also pushing the envelope for the shared memory systems created by SGI over the years. Back in November, NASA said it would be adding 1,700 Xeon E5 server nodes to its "Pleiades" cluster, which has 111,104 Xeon cores of various vintages and which is rated at 1.09 petaflops of aggregate number-crunching power.
The additional ICE X nodes will add approximately 460 teraflops of oomph to Pleiades. It is very likely that the bulk of the $90m in orders that SGI is boasting about comes from this NASA upgrade deal, which will eventually see Pleiades boosted to about 10 petaflops.
Barrenechea sticks around, sort of
Perhaps as importantly for SGI in the short term, former CEO Barrenechea has agreed to remain on the SGI board of directors, even after taking over as president and CEO at OpenText on January 2 - according to a an 8-K filing with the US Securities and Exchange Commission.
"My past five years at SGI were a transformative experience for me personally and I am filled with nothing but pride looking at what we have accomplished," said Barrenechea said in a statement. "SGI is a company larger than any one person, it is the most talented team in the industry and I am pleased to remain engaged as a member of the board."
This gives interim CEO Verdoorn and SGI's executive search committee some breathing room. Not a lot, but some.
Verdoorn has resigned as a member of SGI's compensation committee and will received an annualized base salary of $475,000 for his interim CEO duties as well as a performance bonus that, if certain targets are met, could double his pay. Verdoorn is also getting a monthly grant of 2,500 fully vested SGI stock options so long as he holds the interim CEO role. ®
Sponsored: Minds Mastering Machines - Call for papers now open