Dell debuts shrunken Ultrabook
13in screen in an 11in chassis?
CES 2012

Although Intel has been busy faking Ultrabook gaming demos, Dell has been busy working on the real deal. At CES the Dell XPS 13 Ultrabook was unveiled – touted as a "13.3in display machine in near 11-inch form factor".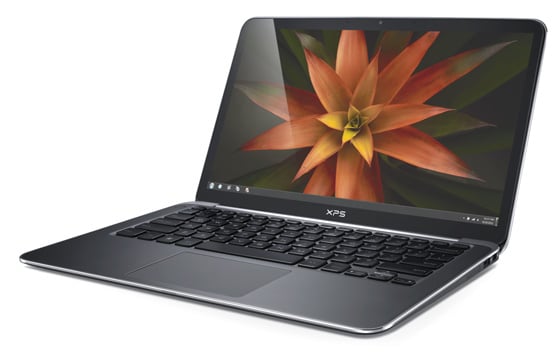 It sounds a bit TARDIS, but compared with both the Asus Zenbook UX31E and the Acer Aspire S3 Ultrabook, Dell's claims of diminution aren't too wide of the mark. Measuring up at 316mm x 205 x 6~18mm, the XPS 13 succeeds in shaving off around 9mm in width and 20mm in depth from its rivals. Yet it's still no match for Apple's 11in MacBook Air at 300 x 192 x 17mm, although it does feature and aluminum casing albeit with a carbon-fibre base.
The space savings are due to the "near frameless" display, which means it doesn't escape having a border to it but not much of one, and the whole panel features edge to edge Gorilla glass. Unlike the hi-res Asus though, the display has a 1366 x 768 resolution.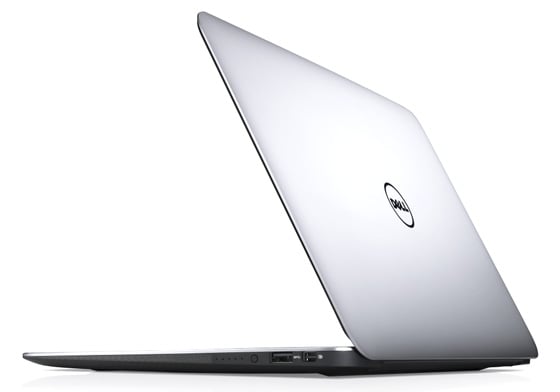 The XPS 13 is offered with either an Intel Core i5 2467M or i7 2637M CPU and 128GB or 256GB SSDs and 4GB of RAM. Running the Core i5 model, Dell claims the XPS 13 battery life is just under nine hours for the six-cell 47Whr pack. USB 3.0 and USB 2.0 interfacing is on-board along with a mini DisplayPort and headphone out. The unit weighs 1.36kg, sitting in between the 13in alternatives from Asus and Acer.
Dell may have the smallest 13in Ultrabook around at the moment but it has some more work to do to get it down to the weight of an 11in model, Apple's Air for instance, is a mere 1.08kg.
The Dell XPS 13 will be available in mid-March 2012, pricing details have yet to be announced. ®
COMMENTS
Not as egregious as HP's offering
But still...BIG screen with Lilliputian resolution. Thanks, but no thanks, Dell. You used to be able to get a 1366x768 screen on the Mini 10! Now it's a big deal because they've got a 13" panel at the same resolution? Can't anyone (Dell, HP, etc.) tear down a 13" MBA and find out where Apple sources their LCD panels?
FAIL because, well, large-but-low-res screens are a failure.
Another step in the right direction, this time w/out clown shoes...
Yesterday we saw the HP's glass-covered "14 inch screen in a 13 inch body". A glass covered body.
The "nearly frameless" displays are a great step forward, and I can't wait for the later generations of ultrabooks, where the screens go all the way to the side of the lid (and have touch - after using a tablet, I find myself poking the screen of my Asus UX31, and being disappointed that nothing happens). That said, neither of the ones i've seen make me regret the UX31 - because the resolution on these "oversized" screens is still low. 1376x768 doesn't give enough space for multitasking - and the big pitch about ultrabooks (I thought) was that not only are they super portable, but that they had the capabilities of a full fledged computer.
And... so far the two bigger-screen-for-the-case ultrabooks covered here are from HP and Dell, which both have terrible reputations for laptop reliability (in dell's case, for consumer laptops - I realize their enterprise ones aren't as bad). At least this one doesn't have glass on the palmrest...
Yeah, not sure about that one either.... This 13" laptop is nowhere near as small as this 11" laptop. Why not point out that it's bigger than the 10" Asus Eee PC Flare too?
comparison?
I know the aspect ratios are different, but why not compare it to a 13" MBA?