Bond Blu-ray box set marks 50 years on film
Worth every Moneypenny
CES 2012

This October marks 50 years since the first James Bond film appeared to wow cinemagoers worldwide. To celebrate, MGM and 20th Century Fox have teamed up to release all 22 films that have borne the 007 marque in one Blu-ray box set.
Bond 50 not only packs in every Bond film to date from 1962's Dr. No to 2008's Quantum of Solace, but also includes more than 130 hours of bonus features, some of which will be new to even the most avid of 007 enthusiasts.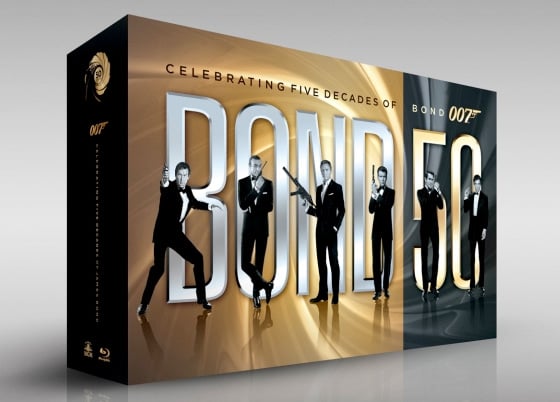 The Man with the golden gun anniversary
Announced at CES, the collection marks the first time that nine of the current roster has been released in the Blu-ray format. Check out the official Bond site for further info.
James Bond - Complete 22 Film Collection is up for pre-order on Amazon priced at £90. This spy-definition set will be available from 1 October 2012. ®
COMMENTS
Bond... James Bond
I have to say that 90 quid for 22 films (and bond films at that!) certainly hits the right price point for this consumer! Dont tell me the movie industry has actually started listening to consumers now???
Travesty
No Bond box set will ever include that rip-off remake of Thunderball. Only the EON production's films are included in the sets
i'm still disappointed
On reading the headline and on first seeing the artwork, i expected a blue ray player, a box, which for some £250 quid or so would have been superb, a genuine must have. however, it is a box set. still, as you say, £90 for 22 films, plus the other 130 hours of bonus material do make it a bargain perhaps the media have learned quickly now where's the uninstall button for my torrent
I got that set for Christmas - Since new year I've watched a film a day in order - I'm not looking forward to the 14th Jan when I have to watch A View To A Kill...
I've got the first James Bond Blu Ray set with 6? films in and they are superb transfers. I'm sure I watched the special features and it said they were all transferred to 4K format from the original prints. Watching Dr No on blu ray you'd be amazed that it was made 50 years ago. I'm going to pre-order it even though I have 8 of the movies on blu ray already.