Playing the game?
Talking of gaming, the AMD HD6545G2 integrated graphics support DX11 so I gave it a quick spin through the Aliens v Predator benchmark at the screen's native 1366 by 768 resolution. This notched up an average frame rate score of 13.6fps, hardly playable, but it is a pretty intensive benchmark. The DX10 performance was better though, scoring an average 34fps in Far Cry 2 which is OK for casual gaming.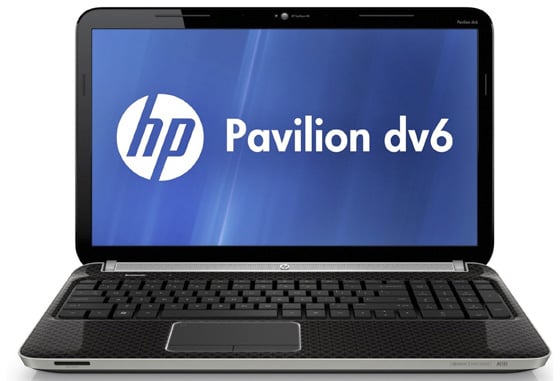 A respectable all-rounder for the price
Verdict

The only thing that lets this AMD dv6 down is its all-but-casual gaming performance, although to be fair it's not been designed for anything more demanding in this sphere. More to the point, the HP Pavilion dv6-6b06sa is a good all-rounder for home use for those on a fairly tight budget. It has enough power to do the everyday jobs and comes with huge storage capacity or it would do once you've stripped out the HP bloatware. ®
More Notebook Reviews

Samsung
Series 9
900X3A
Asus
Zenbook
UX31E
Dell
XPS
14z
Acer
Aspire S3
Ultrabook
Lenovo
ThinkPad
X1

HP Pavilion dv6 15.6in quad-core notebook
Affordable and stylish 15.6in laptop with a satisfactory mix of features and performance.
COMMENTS
Oh yeah!
So excited about yet another 15" machine with 1366x768.
At least I'm out of the "looking for a laptop" loop, as I snatched a Dell Precision M4400 from ebay for £300. 2.66 Core 2 Duo, 4GB RAM, Quadro FX770M, 1920x1200 screen. Threw in a 120GB SSD, and it's all the laptop I could possibly want.
As Piro said. El Reg should just stop reviewing laptops with 15 inch screens and 1366x768 res. I can't imagine the majority of Reg readers would consider it regardless of the other specs....
What I was going to say
768 pixels is not enough. It's close to half of the correct number.
Listen, moronic manufacturers, If I wanted a toy I'd buy a Vtech
Pavilion is a Consumer Series
Agreed with Kevin I am not sure why Reg readers would care about a series of laptops really only intended to be punted out cheap by PC World. HP's Business and Pro Book ranges are good enough but the Pavilion range is just cheap tat, regardless of the screen resolution.
And we were so close...
...only three more posts to go and we'd have made it through the entire comments section without someone saying "lappy". For the sake of typing one extra letter, isn't it worth it not to sound like an idiot?