On reflection
Well, it started out life as a terabyte drive but as usual there's a fair old chunk of HP software taking up residence on it. To back up data there is a SuperMulti DVD±R/RW drive. Somewhat surprisingly there isn't a USB 3.0 port in amongst the four USB ports.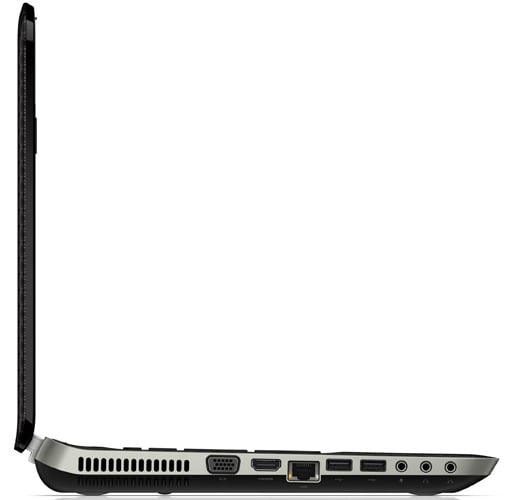 All the four USB ports are version 2 affairs
The dv6-6b06sa has a chiclet style keyboard and it's a good example of the breed with decent key spacing. The keys themselves feel comfortable with just the right amount of travel and there's even a separate numeric keypad.
If you're a fan of glossy screens then the 15.6in screen will be right up your street. HP calls it a BrightView display, and it's not kidding. However, it's one of the most reflective screens I've seen for a while, great for watching movies on but a nightmare to use in an office environment due to light reflections.
Benchmark Tests
PCMark 7 Results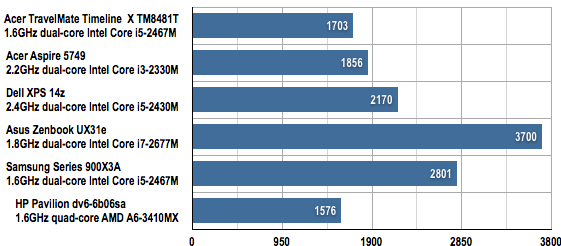 Longer bars are better
And here's yet another notebook with a 15.6in panel that only manages a 1366 x 768 native resolution. Even if you fancied upgrading you're out of luck. Given all the options HP does offer there's not a higher resolution screen available anywhere in the current dv6-6b lineup either.
To give an idea of the battery life, looping in PCMark Vantage the HP dv6-6b06sa notched up a score of 180 mins. For entertainment purposes it gave 211 minutes of life for DVD playback and 136 minutes while playing a game, in this case Far Cry 2.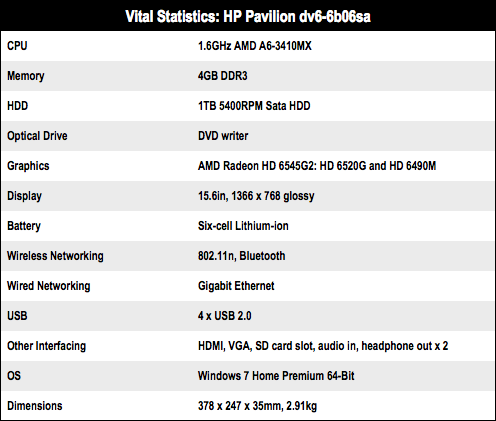 COMMENTS
Oh yeah!
So excited about yet another 15" machine with 1366x768.
At least I'm out of the "looking for a laptop" loop, as I snatched a Dell Precision M4400 from ebay for £300. 2.66 Core 2 Duo, 4GB RAM, Quadro FX770M, 1920x1200 screen. Threw in a 120GB SSD, and it's all the laptop I could possibly want.
As Piro said. El Reg should just stop reviewing laptops with 15 inch screens and 1366x768 res. I can't imagine the majority of Reg readers would consider it regardless of the other specs....
What I was going to say
768 pixels is not enough. It's close to half of the correct number.
Listen, moronic manufacturers, If I wanted a toy I'd buy a Vtech
Pavilion is a Consumer Series
Agreed with Kevin I am not sure why Reg readers would care about a series of laptops really only intended to be punted out cheap by PC World. HP's Business and Pro Book ranges are good enough but the Pavilion range is just cheap tat, regardless of the screen resolution.
And we were so close...
...only three more posts to go and we'd have made it through the entire comments section without someone saying "lappy". For the sake of typing one extra letter, isn't it worth it not to sound like an idiot?