Sony goes inorganic for 'eye popping' OLED TV rival
'Crystal' set contains 6m LEDs
CES 2012

Sony is using the Consumer Electronics Show (CES) to show off its answer to 55in OLED TVs from LG and Samsung. No, not another OLED, but a "crystal LED" set with a screen based on more traditional, inorganic LED tech.
The 55in, 1920 x 1080 telly contains more than six million "ultrafine" LEDs, three each of red, green and blue hue to create each of the full HD panel's 2m-odd pixels.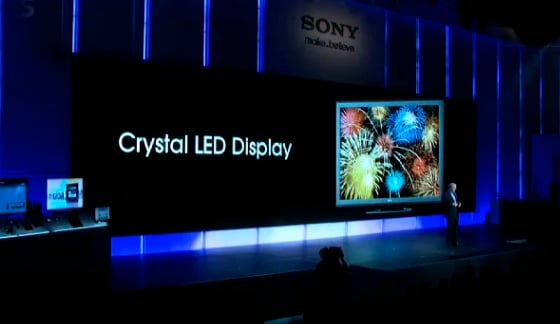 As Sony says, LED - whether organic or inorganic - "results in images with strikingly higher contrast in both light and dark environments, wider color gamut, superb video image response time, and wider viewing angles when compared to existing LCD and plasma displays".
So that's a 180deg; viewing angle, 100 per cent of NTSC colour range, and a brightness of 400cd/m² in the case of the Sony "revolutionary" screen.
Sony CEO Sir Howard Stringer said it will "make your eyes pop, we hope".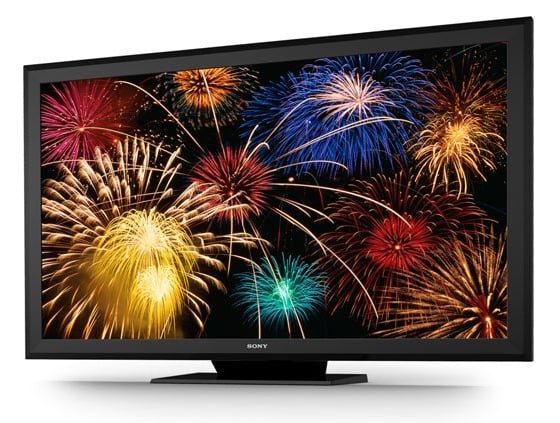 The set consumes a lot less power too: under 70W in operation, compared to over 100W for an LED-backlit LCD.
Sony said it will "work conscientiously" to bring the crystal LED telly to market, so it can't yet say when this will be. It had better hurry - Samsung's 55in OLED TV will be out later this year.
Sony admitted it is continuing work on OLED panel development. Just in case, you understand... ®
COMMENTS
This is totally different than an LCD. An LCD selectively allows the backlight to come through the screen. This has a number of issues including poor black levels and uneven light levels. By having individual leds for each sub-pixel you should have more even light levels and excellent black levels.
And how is a wide colour gamut ever considered a bad thing? It just means they can display the full range of colours, it doesn't mean anything needs to look flourescent
"100 per cent of NTSC colour range..."
That's supposed to be a good thing?
It's not often said to stand for Never Twice the Same Colour for no reason.....
crystal LED
Because they already used the name LED TV in a lie to fool suckers into thinking it was some all new tech.
LED TV
@ Michael 43.
Nope, you are full of crap. Just checked Sony.com and don't see "LCD with LED back lit" anywhere. I see stuff like "54.6" (diag) LED NX720 Internet TV". You don't see LCD at all until you get to the cheap sets and then you get "54.6" (diag) LCD BX520 Series TV "
Go to LG.com and they have LED TV on the navigation menu of the site. The LG TV Box have BIG LED with red, green, and blue letters all over the box but you have to look at the small print to find LCD.
Go to Samsug.com and the TVs are divided into LED, LCD, Plasma on the site navigation. Go to ...
http://www.samsung.com/ca/consumer/tv-video/tv/led/index.idx?pagetype=subtype_p2
And see "Samsung LED TV Series" Page title is LED - TV | SAMSUNG.
So yes it's all my fault :p
Yes, and in the past someone was slapped on the wrist for saying LED TV because it had LEDs in it! Although everyone seems to get away with it now.
I'm surprised none of them tried to claim that their LCD TVs were plasma because the CCFL backlight generates the light using a plasma!