Lenovo outs Ice Cream Sarnie telly
Dual-core Google goggle-box
CES 2012

Lenovo has announced what it claims is the world's first TV to sport Google's latest OS, Android 4.0 Ice Cream Sandwich. It's also the first set with a dual-core processor.
Having already pitched its new ThinkPad laptop range for the Consumer Electronics Show 2012, the company turned attentions to the living room tech-head, introducing a smart TV, the K91.
The 55in K91 rocks up with a 240Hz 1080p IPS LCD display - the same screen tech as the iPad - plus a 1.5GHz dual-core QualComm 8060 Snapdragon processor, 1GB of Ram and a 5Mp camera. The smart set's "Sandwich" UI integrates three major functions: video on demand, internet apps and regular television content.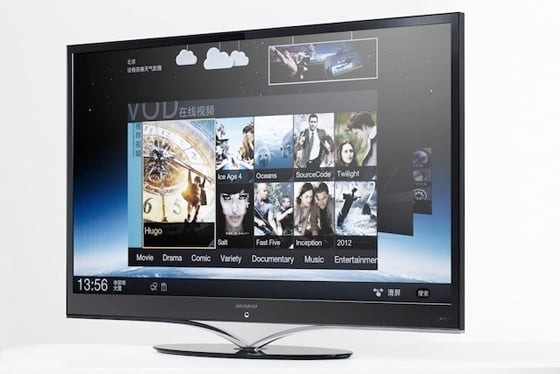 It also boasts speech recognition technology and gets with the times further by including cloud support.
The company says the Lenovo K91 is available immediately in China and will be introduced to Western markets at a later date. Prices have yet to be set. ®
COMMENTS
Smart Telly
I want a telly with another telly hanging off the side. Then, when watching a film, the other telly will automatically fire up IMDB so the missus and I can argue about who was in what other film without having to crank up the laptop!
Hmm - speech recognition
Does this mean it'll go off an perform all sorts of unwanted actions, because of what someone in a tele program has just said?
The fights between my kids over who's going to watch what are noisy enough as it is without them trying to out-shout each other to get the TV to obey them.
At the risk of being classed an old fogey, at times I can see the value in the old channel selector dial that had to be turned (and could also pulled off and put in the top cupboard to prevent fights).
Kinect
Just hook your Kinect up to it. It can do anything!