How's Cameron's favourite Shoreditch startup doing? Oh.
Last.fm scrobbled deeper into debt
Posted in Management, 9th January 2012 12:16 GMT
Watch Now : Virtual Machine Movement with Hyper-V
If Cameron and his Number 10 advisors are to believed, the future of the British economy powered by Shoreditch web startups is going to be so bright, we'll all need sunglasses. The Conservatives have sought to promote Old Street's webtastic firms as epitomes of entrepreneurship.
So how are they faring? Let's look at one that was singled out by David Cameron in his 2010 speech extolling Silicon Roundabout - Last.fm. "Brought to you by 70 passionate kids from our office in East London, we play our part in changing the way music is discovered and enjoyed, forever," Last.fm boasts on its website. "Hey, someone's got to do it."
According to the company's accounts, Last.fm's losses increased in 2010, the last year for which records are publicly available. The annual loss grew from £2.89m in 2009 to over £5m in 2010. That was on a turnover of just £7.992m in 2010 (2009: £7.283m). Administrative expenses increased from £2.95m to over £8m.
A year ago, the Guardian suggested that Last.fm was moving "closer to profit" - but that isn't evident in the financials. It's moving in the opposite direction.
US broadcaster CBS acquired Last.fm for £280m in 2007 and treats it (somewhat generously) as a 'going concern'.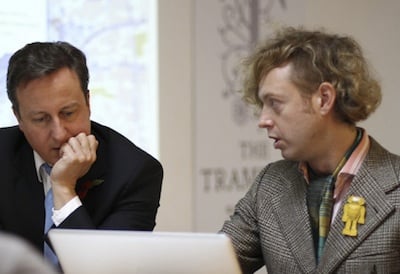 Cameron meets a Shoreditch nontrepreneur
David Cameron wants more successes like Last.fm, channelling funding via the Business Department to the controversial quango Tech City UK, which promotes webby startups. TCUK has burned through £1.79m so far - including over a million on administrative expenses.
"Tech City sends a message about the whole of the UK," said Cameron in November.
Mind you, so do those accounts. Last.fm has accumulated debts of £29m over its lifetime.
Since the mid-1970s, when it broke away from the post-war consensus, the Conservatives have been wary of industrial intervention - of using taxpayer money to promote loss-making industries. Back then it was British Leyland - today it's nontrepreneurs. Is the Conservatives' 21st Century industrial policy really got any wiser? ®
Bootnote
This isn't the complete picture, of course. Just as with a pyramid scheme, the first in (and first to bail) can prosper. Angel investor Stefan Glaenzer reportedly made £22m from the sale of Last.fm and the co-founders £19m each.
Watch Now : Virtual Machine Movement with Hyper-V
COMMENTS
Silicon Roundabout
There is probably more work, more business done and more profit made in your average industrial park on some wasteland near Reading.
Not sexy enough for the folks at the Guardian or our PM but, like it or not, more beneficial to our country's economy.
He wants more startups
making quick cash for 'investors' and keeping a few token 'culture workers' off the streets.
World leading innovation in IT, etc.
He did say that he thought startups taking on one or two people each would solve the UK's unemployment problem.
So that'll be millions of startups then.
Since his arithmetic can't be wrong - he went to a good school, you know - he must be serious about this.
The reality is that most people working in startup land know that the object of the exercise is to create something plausible sounding, sell it to a Greater Fool for too much money, trouser the profits, and be somewhere else when it goes tits-up.
The success rate of tech startups - especially webby wobbly 2.0 social ones - makes winning the lottery seem like a sure thing.
More Web 2.0 bullshine?
Can someone actually invent something please?
Wouldn't do you any good
"Can someone actually invent something please?"
Sorry - it's already patented.
"Brought to you by 70 passionate kids "
Aftering reading this and overcoming the nausea (bad timing on my part - I've just had lunch), I couldn't shake the flashback to "Summer Holiday " and Cliff Richard - "I know, why don't we do the show right here!?".
Kids indeed.
It's no good, got to ...
BAAAAAAAAAAAAAAAAAARRRRFFFFFFFFFFF