Ford unwraps '2013 Mondeo'
Fusion line-up includes Energi e-car
Detroit Motor Show

The great and good of the Ford Motor Company today whipped the dust covers off the new Fusion at the North American International Motor Show in Detroit.
Should we care? Yes, because this is the 2013 Ford Mondeo, give or take a few minor technical details.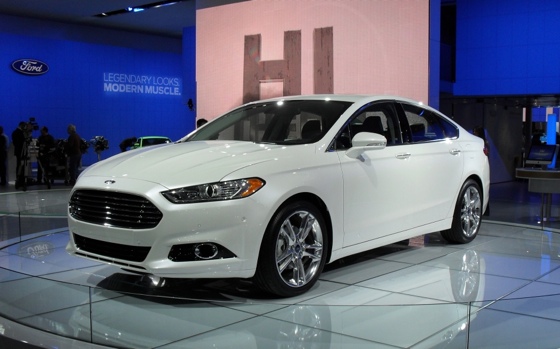 It is based on Ford's new global C/D platform that will provide the underpinnings for ten models around the globe by the end of 2014 and is expected to account for 1m units per annum of the Blue Oval's output.
The new Fusion comes loaded with all the techie gadgets already seen on the 2011 Focus, such as lane guidance, radar assisted parking, cruise control, signpost recognition and the all-singing, all-dancing Sync connectivity suite.
With a touch of Aston Martin around the nose, the Fusion is not a bad looker and certainly a step forward from the rather annonymous Mondeo.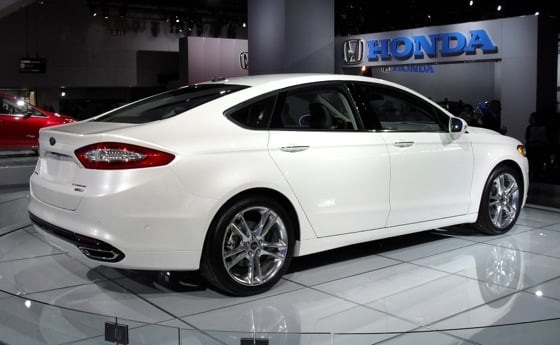 Four-wheel drive will also be an option if the AWD badge I saw on the back of one show car is anything to go by.
Two hybrids will also be part of the new line-up. A conventional Prius-like model called the Hybrid - what else - will be first to market followed by a plug-in version called the Energi. Ford is saying the Energi will cover 100 MPGe.
MPGe? That's a new US miles per gallon energy use equivalence metric for electrified vehicles. As with all all plug-in hybrids, real-world figures will be entirely dependent on how often you plug the thing in and avoid using the petrol motor.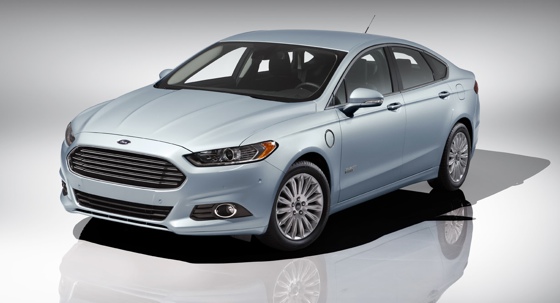 E-car version: the Energi
The Focus Energi's 100 MPGe is apparently is 8 MPGe more than the Chevrolet Volt - aka the Vauxhall Ampera - and 13 more than the projected efficiency of Toyota's Prius plug-in hybrid model.
The Fusion Hybrid will use an all-new 2.0 litre Atkinson-cycle four-cylinder petrol engine down in size from the previous 2.5 litre unit, which it beats in both the power and economy stakes. This powertrain is anticipated to deliver best-in-class fuel economy of 56.5mpg on the urban cycle.
Ford is keeping tight-lipped on the battery capacities of both the Fusion Hybrid and Energi, specifically the electric-only range of the latter.
The new Mondeo will go on sale in early 2013 in the UK. ®
Sponsored: Minds Mastering Machines - Call for papers now open