Who will be David to EMC's external disk Goliath?
Unstoppable storage king and NetApp crush rivals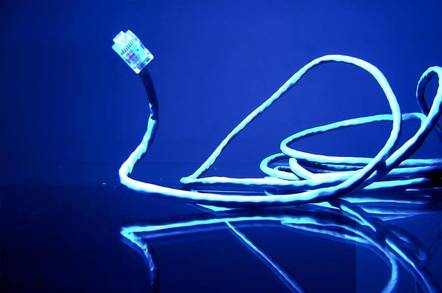 For seven years EMC and NetApp have increasingly dominated the external storage industry. Can they stay at the top?
Charts produced by Stifel Nicolaus analyst Aaron Rakers using his own and IDC numbers and company data show EMC and NetApp as growing at the expense of other mainstream suppliers, including Dell, HP, Hitachi Data Systems, IBM and Oracle/Sun.
The first chart shows revenues in external storage from all these vendors:

Quarterly revenue history for external storage from mainstream vendors.
The second combines EMC and NetApp numbers and compares these to the rest:

EMC/NetApp vs Dell/HDS/HP/IBM/Oracle-Sun in external storage revenues
See how the gap between EMC and NetApp on the one hand, and the rest on the other, has been widening more and more? It's evident that, although NetApp is still growing, it is not at the same pace. Its growth has slowed over the most recent quarters and it has not broken clear of the pack in the same way as EMC has. Both NetApp and EMC face challenges in continuing to grow and take business away from the others.
NetApp faces the conundrum of what to do about server flash: manage it – à la EMC Lightning – or bring data-bound servers apps into the FAS (or E-Series) arrays. Other issues include treating object storage as another FAS ONTAP extension or as a separate product line – like the E-Series. There is also the big data analytics issue which could be dealt with by partnering (Teradata) or buying in technology and establishing the E-Series as a strongly growing product line in the face of DataDirect and competition.
For EMC the big, big challenge is not a product one – all seems set fair on those multiple fronts – but rather a people issue. Big Joe goes later this year, becoming executive chairman. Does the company choose a finance/operations-focused successor like CFO David Goulden or a product engineering visionary like Pat Gelsinger? Whichever candidate is chosen to succeed Joe Tucci – be it one of these front-runners or a third contender – the EMC machine will crank out new products and grow revenues for a few quarters. But will it run out of steam as the new CEO lets EMC miss developing storage and information management trends?
How will EMC deal with the rise of DAS and converged server/storage/networking infrastructures demanding closer integration than VCE can provide? How will the relationship with Cisco develop? Will it follow the Dell model? Perhaps the archiving and content management software side of the EMC house needs a radical makeover, or needs to make an acquisition. Should EMC buy CommVault and have done with Documentum? There are lots of big questions here.
The key is the new CEO. EMC does not want to appoint its version of Leo Apotheker to the helm, although, as it happens, Leo is free at the moment ... ®
Sponsored: Minds Mastering Machines - Call for papers now open