Ten... mini hi-fi systems
Good things in small packages
Product Round-up Compact enough for a bookshelf but punching above their weight compared to a portable radio, mini hi-fis are an audio staple. These items can become the sole sound system for anyone pushed for space in bijou flats, bedsits and student digs or serve as a back-up in bedrooms, kitchens and other places around the home.
This part of the market is still fairly conservative. CD playback remains key, while 'special' features such as an iPod dock or DAB radio tuner wouldn't have looked unusual almost a decade ago. USB sockets are increasingly common in these systems but often restricted to playing MP3 files rather than higher quality lossless formats like FLAC. Also, wired or wireless network connections, now essential in a lot of consumer electronics devices, are only slowly making their way into mini systems. With a varied price range, it's not simply you get what you pay as this round-up uncovered some sound offerings at a reasonable sum.
Arcam Solo Mini-Muso

This system from the British luxury brand is a modern classic. You can partner the Mini with any suitable speakers or with the Muso pair, which use sturdy metal enclosures. The main unit is equally robust and adorned with a vast array of sockets. There are combined binding post/screw terminals for the speaker outputs (and on the speakers themselves), while a USB port is for MP3/WMA playback, as usual. It lacks a built-in iPod dock but the optional irDock is top-notch and offers control through the system's user friendly remote. Power output is 2 x 25W. CD playback is where it excels, delivering clean and precise audio quality, although it's less forgiving with MP3s. The radio (including DAB) features both F-type and Belling-Lee connections and fares well too.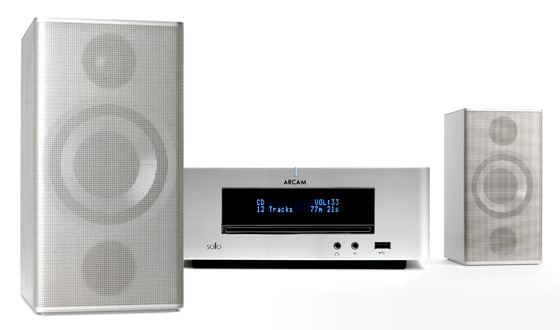 Reg Rating 75%
Price £999
More info Arcam
Cambridge Audio Sonata DR30 and S30 speakers

As with the Arcam, this is a classy offering built around the slim metal-cased DR30 receiver. A separate £149 unit (CD30v2) provides disc playback or another option is the £400 NP30 network media player. The separate DD30 iPod dock is supplied in the box. The receiver's wealth of sockets includes screw/binding post speaker terminals. Power output is 2 x 40W. It lacks a USB port but there is a mini-jack for MP3 players. DAB tuning was problematic at first but fine after recanning. Vocals are powerful and forthright but higher notes could do with more sparkle and the speakers sound boxy at times. Compressed iPod tracks are also somewhat woolly. All in all, it's a chic but slightly disappointing system.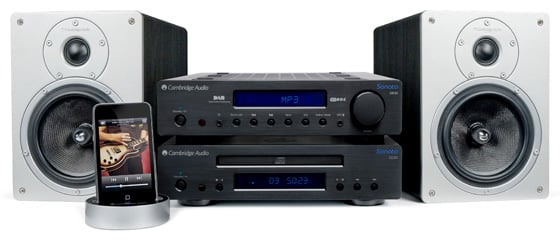 COMMENTS
@Hitmouse "cheap car stereo..."
Here's a suggestion: buy/build a 240-12v transformer and box for your car stereo: buy and connect your chosen speakers (car power amp optional) and you're done. Do need to have a car steroe with 'traditional' fixed front panel rather than the 'remote' display common in today's manf fitted models.
With all the 'custom' cases around for PC's - box for the radio/media player shouldn't be a problem.
Not a new idea I grant you - I did this >28yrs ago for university to end up with v compact radio/tape player. That was years before compact hi-fi systems were available for the budget user
Groan...
Uncontrolled audio quality comparison tests which are not performed using "blind testing" techniques are next to worthless. The whole area of audiophilia is riven with mumbo-jumbo, meaningless and undefined terms and snake oil salesman.
you have missed the point...
why the F should he have to purchase an iPod dock and iPod? he has perfectly functional SD cards and USB sticks...
If I see a product with an iPod dock on it, then I'll give it a miss as part of the price of the product is payment to Apple for the license to include said poncey iPod dock...
I've researched most of these brands and more, and yet know one does a desktop system that you can stick a USB stick/SD card in full of podcasts and listen to them while you work.
The let-downs for them are that they:
1. don't remember last position if the machine is turned off, or power is otherwise lost
2. have no FF/RW within tracks, which you need for tracks that are 30-60 minutes long
3. tiny buttons or so vertically unstable that you have to hold them to operate them
4. No display to show track information
My cheap car stereo lets me do this, but honestly it seems there's nothing for the home that I can just toggle on and off when I walk into the kitchen. I don't want to have to plug in an iPod as that introduces more layers of complexity.
Hitmouse is talking sense
I sympathise. For some reason, the industry does not want to make anything which allows flexible playback of your mp3 library on your hi-fi. The best you can do currently is buy a cheap mp3 player and attach it with a cable, as I do. It would be trivially easy for the manufacturers to make a good USB interface, or build mp3 storage into a receive unit, or even to make a seperate unit, but the nearest you will get to that is the Brennan.
There are products like squeezebox, but these introduce many layers of complexity, and want to involve your network, pc,TV, nas and other ecosystems.