Star Wars: The Old Republic
In a galaxy far, far away...
Friends 'til the end
Companions play a large part in making your life less fraught. Kaliyo was my first companion at level 8. She is a pretty cool chick whom I met at a nightclub working for some Hutt mafia types. She is the same level character as me, and helps in a fight which makes soloing a lot easier and less lonely.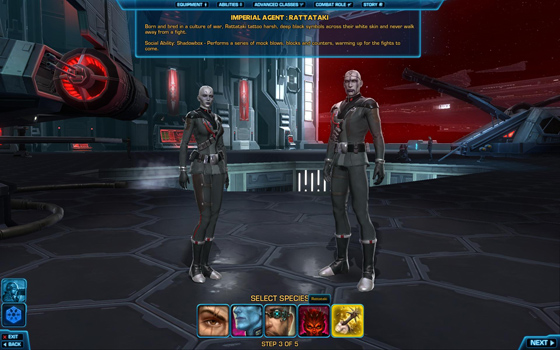 Join the race
There are several things that make this game immersive and pull you into the epic storyline. The obviously enormous amount of voice and dialogue production that went into creating this corporeal, organic world makes it clear that having scrolling quest text, breaking your suspension of disbelief, like that in found in WoW is a thing of the past. The fact I now have to listen to everything, is an instant attention grabber.
I am invariably a pussy when it comes to dungeon crawls and often shouted at for aggroing the mobs. Just call me Leroy... The Old Republic has instances, renamed Flashpoints, where there are bosses and higher value drops. These have guild written all over them but being a lone wolf I have to put out a shout and join up with a PUG to enjoy some interactive dialogue scenes and gain social points.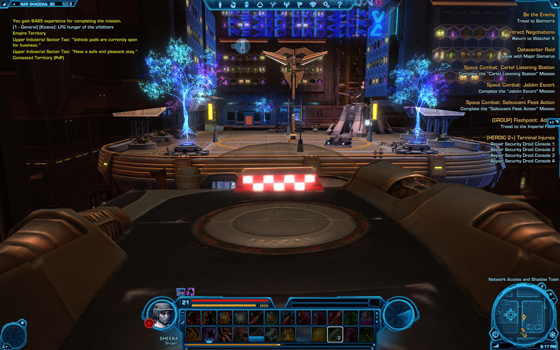 Time to jump ship
I simply click an icon to line up for PVP action. Warzones are a nod to Capture the flag and football but I didn't really enjoy these, hardly FIFA.
Overall, this game has substance and polish and convinces me I am immersed in the Star Wars universe. Having decided to invest my time and monthly sub for the immediate future, I can only hope Bioware has anticipated what it will need to do to keep me hooked.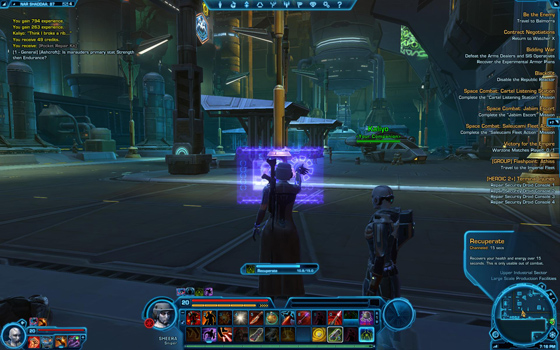 Need a little pick me up
Verdict
SWTOR isn't my dream Star Wars game, it isn't even my dream MMORPG but I did enjoy playing it. Even though it doesn't add anything new to either of these genres it brings on dewey-eyed Star Wars nostalgia. Having reached level 21, Bioware has me hooked like an Alabama meth-head and, for the meantime, I will continue to play to see how SWTOR develops. I guess Bioware hopes that's what 30 million other gamers have in mind, considering its hefty budget. ®
More Games Reviews

Need for Speed:
The Run
Saints Row:
The Third
The Legend of Zelda:
Skyward Sword
Assassin's Creed
Revelations
Halo: Combat Evolved
Anniversary Edition
Sponsored: Minds Mastering Machines - Call for papers now open

Star Wars: The Old Republic
It's the force that counts. Available on PC only.
Price:
£45, then monthly subscriptions RRP