Star Wars: The Old Republic
In a galaxy far, far away...
A class of its own
Whether playing Republic or Imperial, I have four basic classes available. My class choice decides my abilities and also my main storyline. The narrative is open to variation depending on the chosen dialogue options during conversations. Just how much variation there is I have yet to fully explore. And what's this? No pet classes?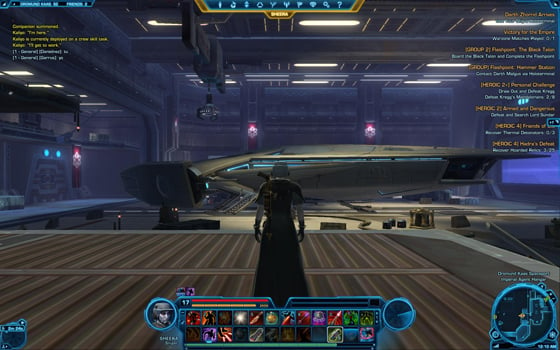 Shuttle down
The class system will be recognisable conforming to the Ranged, Tank, Healer and overpowered force lighting broker. Alas, no dual spec either. I felt disappointed that there was no engineer class with a cutesy pet droid. Yes, at level 15 I can have a droid as a companion but he isn't very helpful; seemingly scared of a fight and only useful for creating items.
While playing The Old Republic it becomes apparent that Bioware has constructed each class as a game in itself. My class determines not only how I play but my game experience, each class story has a unique impact on the central narrative.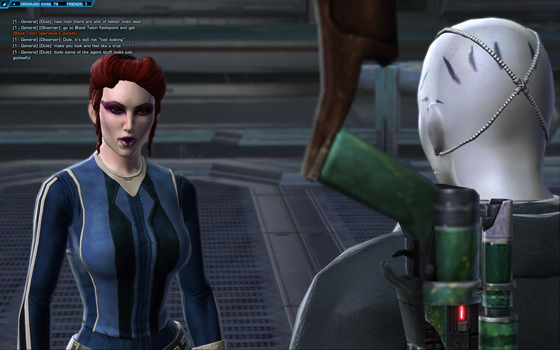 You can't cross me
The first thing I noticed was how familiar the controls are – an unashamed clone of the UI seen in WoW or Rift. But there is definitely a clear KOTOR design ethos with streamlined blue and sans serif fonts. I really like the inventory and character windows and am struck by how easy it is to use, overall.
Smooth maps make life in SWTOR much easier to navigate. The starting world for the Imperial agent is the desert planet Hutta. I complete the usual low level tasks until I level enough to leave the planet and explore the galaxy. These tasks are made more enjoyable because they are introduced with stunning and immersive cut scenes (for an MMORPG) that help capture the feel of the Star Wars Universe.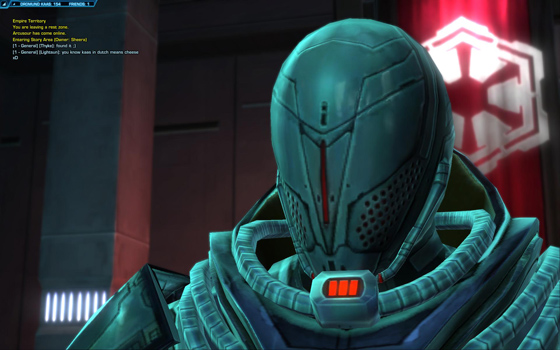 Talk to the bars...
These first few levels will be a comfortable start for noobs. Every time you gain enough experience to level, you have to find a trainer. I pay them a small amount of money to gain different skills such as cover which is basically my own personal futuristic shield.
Sponsored: Minds Mastering Machines - Call for papers now open