Dark times be comin'
When it comes to allegiance, I always felt it better to stick with the dark side to stay true to my black heart. I make every choice as spitefully and viciously as possible to rack up those dark side points.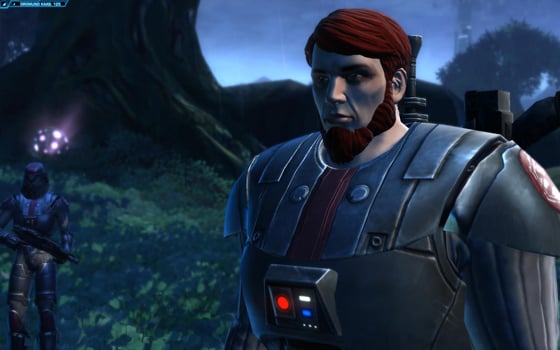 Fixed in front
One major disappointment was the lack of roaming from mobs – they just seemed to wait around in groups to be slaughtered. Now where is the fun in that? Being able to AoE loot bodies was really helpful, though who wants to pick their way through a pile of corpses? Be sure to keep an eye out for oft times well hidden datacrons, for welcome stat increases. The Old Republic is divided up into planets and other celestial bodies. While I can't visit any planet I like early on, I can later with the help of a starship (along with my lame ass droid) that I will obtain during my main quest. Watch out for contested worlds in PVP servers, as these can make the missions extremely hard if you're not accompanied by your friends.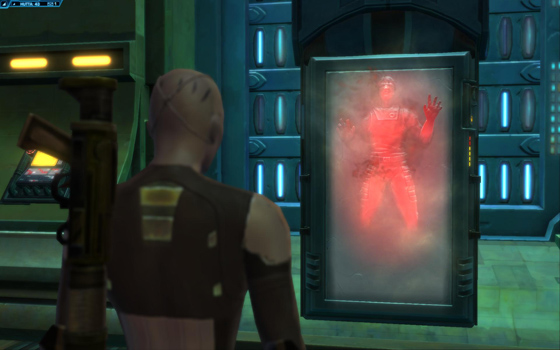 Red guy district
There is vast and epic scale for creating completely different atmospheres on the varied planets of the Star Wars universe, which made me question: why they are all so samey? In essence, if you've seen one city you seen them all.
Once I get to level 10 I get to specialise and open up my skill tree and customise my character. I chose to be a sniper. This gives me three the skill trees, Lethality, Engineering and Marksmanship. Plus one per cent marksmanship for one skill point seems a ludicrously small increase, so much that it didn't seem to make any difference in combat. In retrospect sniper class isn't the most powerful class to choose and I often felt like I was missing out not having a light sabre or force lightning at my disposal.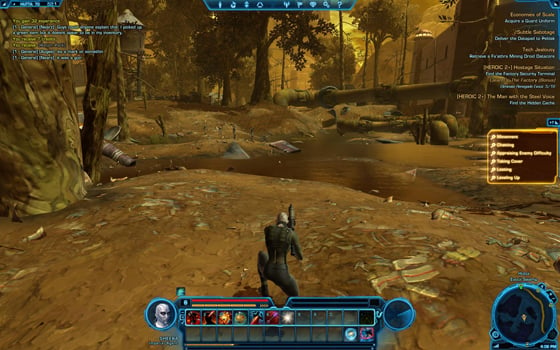 Swamp thing...
To commit to this game you have to pay attention to Crew skills and make sure to read about their different synergies before making your decision. I chose cyber tech for my crafting skill and then salvaging and underworld trading to obtain the materials I needed to build amour mods and upgrades, which I could use for myself or sell on the global marketplace.
COMMENTS
£45 upfront AND a monthly fee? That's me out then, if there's a monthly fee involved I'm not spending £45 upfront to find out it's not my style of game. One or the other, but not both. That's what I like about DC Universe on the PS3, it's free to download and then upto you if you want to pay for the extra bits. As a result they get a monthly subscription from me as the free version is just restricted enough to show what you're missing and get you hooked in.
Maybe I'm just old :(
Read the review to see if it was a suitable game for my kids but utterly failed to understand it.
"The class system will be recognisable conforming to the Ranged, Tank, Healer and overpowered force lighting broker. Alas, no dual spec either."
Is this supposed to mean something?
If you got balance problems I feel bad for you son
I got 99 problems but the Sith ain't one.
Seems the same to me but then I come from EVE too so maybe it's just us. General chat reminds me of Local in a system with Goons, although not as rude, profane or disgusting.
Yes you are..
a noob.. Fortunately age is no barrier, so you should immediately purchase a copy of World of Warcraft, become hopelessly addicted to online gaming in order to learn the required terminology.
To answer your question, most online games have mature language filters but nothing will prevent someone from teaching your kids how to disable it. Games like these are filled with people aged 10-99, with a range of personalities to match. So suitable for kids? Yes, but not under the age of 10 or 11 and not without supervision.
What some people do is play the game themselves for a while, join a family-friendly group of friends (usually called a "guild" or something similar) and then let the kids take over the account. Most guilds have their own website, and will let you know if they are family friendly, therefore limiting language and behaviour to social norms.
There maybe some PG-13 sexual inuendo, but unless the game is rated Mature (M) there will be no nudity. It's a Star Wars game so there will be violence at about PG / PG-13 level shown in the game, including blood.