World's first mixed-embryo rhesus monkeys born in US
Normal, healthy chimeric primates created during stem cell research
Genetic researchers have created the world's first chimeric monkeys, primates who were created from a combination of cells from separate rhesus monkey embryos.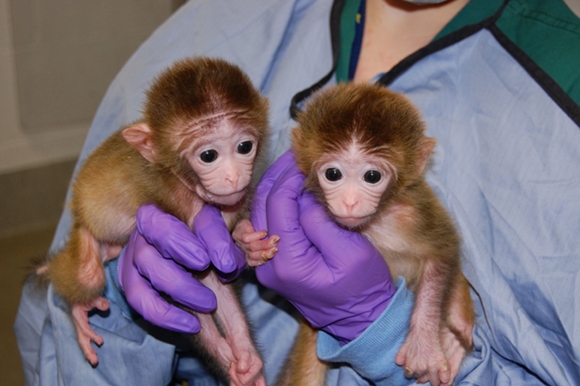 Chimeric monkeys Roku and Hex. Credit: OHSU
The healthy monkeys were born after the boffins basically glued together the stem cells from different embryos and then implanted these mixed embryos.
"The cells never fuse, but they stay together and work together to form tissues and organs," said Shoukhrat Mitalipov of the Oregon Health & Science University (OHSU).
"This is an important development – not because anyone would develop human chimeras – but because it points out a key distinction between species and between different kind of stem cells that will impact our understanding of stem cells and their future potential in regenerative medicine.
"Stem cell therapies hold great promise for replacing damaged nerve cells in those who have been paralysed due to a spinal cord injury or for example, in replacing dopamine-producing cells in Parkinson's patients who lose these brain cells resulting in disease," he explained.
Before now, scientists have only been able to create chimeras from mice by introducing stem cells into an embryo, but this method failed when attempting to create chimeric monkeys.
With rodents, both totipotent cells ("master" cells, which come from the early embryo and can divide and produce cells in the placenta or the organism) and pluripotent cells (which come later and can only form the body) can be used to form chimeras.
But in primates, only totipotent cells can be used. This is an important discovery that affects scientists' understanding of stem cells' capabilities.
"As we move stem cell therapies from the lab to clinics and from the mouse to humans, we need to understand what these cells do and what they can't do and also how cell function can differ in species," Mitalipov said.
The research has been published in this month's Cell. ®
Sponsored: Minds Mastering Machines - Call for papers now open