Boffins glue self-righting ROBO-VELOCIRAPTOR tail to car
Leaping lizards inspire super stable search bots
Biologists at the University of California in Berkeley have stuck an intelligent robotic tail on a toy car in an attempt to make clumsy droids of the future more stable.
Slow-motion videos of jumping lizards had the team of engineers and biologists scrambling to their drawing boards to come up with the manmade rump-connected balancing technology. Now Prof Robert J. Full, an expert in integrative biology, and his brainy bunch believe they have cracked how velociraptors must have run, jumped and used their tails.
The researchers coaxed lab lizards to vault off a low platform while filming them in flight, and also encouraged the lizards to leap off slippery platforms, recording how the creatures relied on their tails to stabilise themselves.
Mechanical engineers working in collaboration with the biology boffins stuck a mechanical tail onto a toy car along with a small gyroscope. The tail by itself didn't stop the bot from nosediving, but a second version of the gizmo, which used feedback from the gyroscope to adjust the tail's position, proved to be successful.
The actively controlled tail effectively redirected the angular momentum of the vehicle into the tail's swing, as happens with leaping lizards, Professor Full said.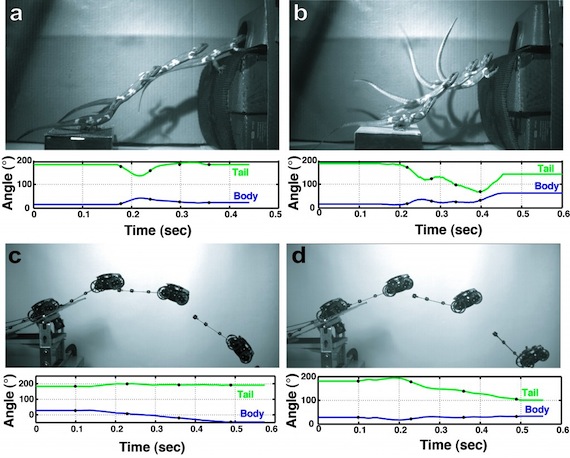 Fly my pretties, fly
The tech proved useful in more serious falls too: when dropped from mid-air the tailed autobot was able to right itself and stabilise its body after plummeting a metre. The team originally investigated how lizard tails work to test a theory on how two-legged dinosaurs, such as remorseless Jurassic Park killers velociraptors, used their tails to balance.
The team hope that their tailed robot will help improve stability in search-and-rescue robots, allowing the little bots to roam faster and further and to right themselves after dramatic tumbles.
Tail-assisted pitch control in lizards, robots and dinosaurs was published on 4 January in Nature. ®
Sponsored: Minds Mastering Machines - Call for papers now open