'Mobiles bake men's balls' bog ad is cobblers - new ruling
Watchdog tuts at anti-phone posters
The anti-phone brigade has been ticked off by the Advertising Standards Authority for running posters declaring that a phone in blokes' jeans could ruin their genes.
The posters, which ran in the toilets at service stations and shopping centres, claimed that "medical experts" are warning that a mobile phone can turn chaps infertile. Even the usually toothless ASA had to object to that, given the lack of empirical evidence that most "experts" would require, so has politely asked the EM Radiation Research Trust not to use the posters again.
Not that the posters will suddenly be torn down today: the publicity campaign only ran up until August 21, and the ASA isn't fining the trust or anything serious like that. The mobe-bashing body just has to rethink the posters.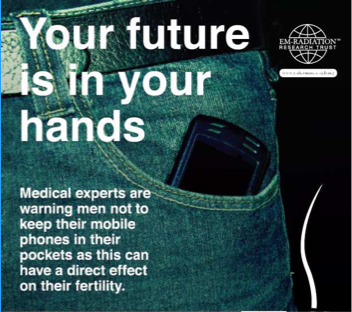 The ad that appeared above urinals around the UK
The trust did try to fight back, deluging the ASA with inconclusive studies and quoting our old friends the Council Of Europe, the box-of-frogs outfit that wants the return of the Heliograph and the creation of special radio-free reservations for the paranoid-delusional.
But the ASA decided the wording of the ad would make most readers think there was a consensus of opinion in the medical community that mobiles can cause infertility, while only the unenlightened would claim that was the case.
So the posters won't appear again, at least not in that form, but thousands of people will already have seen them, and quite possibly drawn the erroneous conclusion, much to the delight of the campaigners against stuff. ®
Sponsored: Minds Mastering Machines - Call for papers now open