Exotic Russian rock CAME FROM OUTER SPACE
Alien quasicrystal find sheds light on solar system birth
Atom-bothering boffins have proved that a crystal previously only found in labs also occurs naturally - in outer space.
The scientists have found evidence that a 'quasicrystal' uncovered in Russia was actually part of a meteorite that fell to Earth rather than a material that was formed naturally on our home world.
Quasicrystals - the discovery of which bagged Daniel Shechtman of the Israel Institute of Technology last year's Nobel Prize in chemistry - have a structure that is orderly, but unlike regular crystals they're not translationally symmetrical. In other words, a quasicrystal has a pattern, but that pattern is not symmetrical in more than one direction and never quite repeats itself - see the picture below.
The first example of one was found in 1982 by Shechtman in synthetic material made up of different metals including aluminium and magnesium.
In 2009 another sample was found in a rock from the Koryak mountains in eastern Russia by a group of experts, including Paul Steinhardt of Princeton University and Luca Bindi of the University of Florence in Italy, who have now proved the crystals are extraterrestrial in origin.
"Our evidence indicates that quasicrystals can form naturally under astrophysical conditions and remain stable over cosmic timescales, giving unique insights on their existence in nature and stability," the research, published in the Proceedings of the National Academy of Sciences, concluded.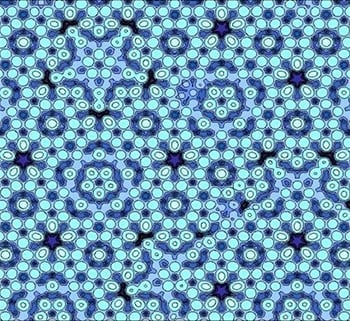 Atomic model of quasicrystal. Credit: JW Evans, The Ames Laboratory
The researchers found traces of the mineral stishovite on the rock - a substance that forms at high pressures and temperatures such as when meteorites bounce off each other in space.
"Its presence strongly points to formation in an extreme environment, as might occur in a hypervelocity impact or in the deep mantle," the study said.
"This stishovite contains inclusions of quasicrystal, an indication that the quasicrystal formed before or during an extremely high pressure event."
Based on this evidence, the boffins used an ion probe to examine the composition of oxygen isotopes and oxide minerals around the quasicrystal, a method often used to figure out if rocks are terrestrial or alien.
Although the scientists know the quasicrystal is alien and naturally formed, they're still not sure just how it was made, as the conditions to synthesise these crystals in the lab are pretty stringent.
"Resolving the remarkable puzzles posed by this sample will not only further clarify the origin of the quasicrystal phase, but also shed light on previously unobserved early solar system processes," the study said. ®
Sponsored: Minds Mastering Machines - Call for papers now open