Sequel server
The sequel, Treasure Island Dizzy, was even more notorious as being by far the hardest game in the series. Having but one solitary life, not only must you trek to and fro to find a means of escape from the titular island, but the ultimate bitch-slap came at the end of the quest courtesy of the penny-pinching ferryman who demands 30 gold coins for a ride home. Presumably a retired London cabbie. This fearless and inventive scum gets his kicks by eking a dishonest living out of the poor unfortunate souls who wash up on his ostensible 'treasure' island.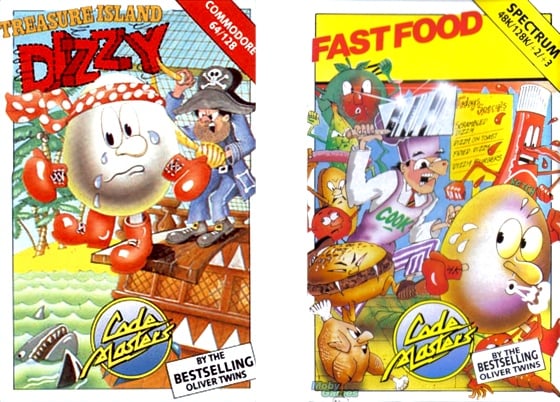 First among sequels
The single-life aspect, though frustrating, was nonetheless fascinating because it all came about by the inclusion of underwater exploration. Let's say that the game was designed with multiple lives. If a submerged player were to discard the snorkel and lose a life, then there would be no way for them to re-enter the water to retrieve it. A minor cock-up, but one which ultimately guaranteed to keep players on their toes.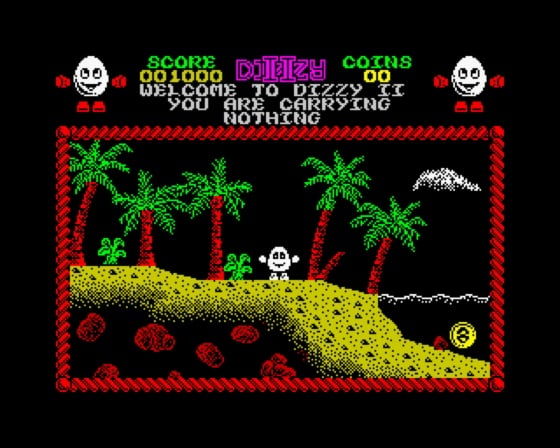 Treasure Island on the Speccy
Source: Wikimedia
It was also the first Dizzy game to feature digitised speech, beckoning you into the game upon loading with a friendly "Welcome to Treasure Island, Dizzy". Although the effect was more akin to being greeted by Steve the Dalek after smoking an entire Cuban tobacco harvest.
The third Dizzy game released, but not really considered canon by fans (ie. me) so we'll only touch on it briefly, was Fast Food, an enjoyable Pac-Man homage which saw our sentient ovulation roaming round mazes, consuming junk food such as burgers, milk shakes and pizza, all the while being pursued by four monsters. It's like a bizarre fever dream reimagining of the final act of The Shining.
Presumably reanimated via Zaks' dark sorcery, the food had no real personality, nor was it particularly 'fast', as the items of grub miserably shamble into Dizzy with scant regard for safety, almost as if to end their unnatural existence.
So, to recap, Resident Evil is just Dizzy with zombies. Actually, Fast Food wasn't too far off... ®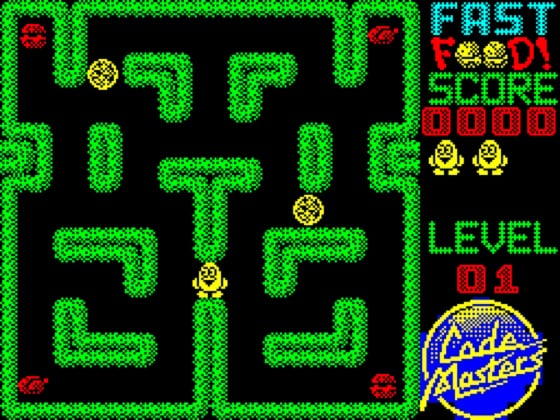 Fast food on the Spectrum
To be continued...
Antique Code Show is published every two weeks
Developer The Oliver Twins
Publisher Codemasters
Year of release 1986
Platforms ZX Spectrum, Amstrad CPC, Commodore 64
More Retro Games

Rainbow
Islands
Doom
Lemmings
Flashback:
The Quest for
Identity
X-COM UFO:
Enemy Unknown
Dizzy: the Ultimate Cartoon Adventure
COMMENTS
titular memories
"The original was coded on a CPC 6128 in the MAXAM assembler and then ported to the Spectrum using a special cable the Olivers had built for them. True cross platform development and all in their bedroom!"
Interesting that you mention that.
It is more than just a cable, it is a Z80 PIO hooked up to the bus on the speccy side, and the printer port on the amstrad side. I say is, because contrary to popular opinion, it is not lost. It is still sitting in a box in my private collection, where it has been for a long time. If I can find the driver software, I will have to dump it and create a schematic of the hardware.
On a related note, I must find my collection of master and sample tapes and dump them too.
If anyone wants me to, I can take some photos for verification purposes. It will take a few days though, need to get at the box in question. Hell, if ElReg wants to take a look and have a fondle of this one-off piece of hardware, get in touch.
Interesting article - thanks!
Hi Andy,
Comparing Dizzy to Resident Evil is a bit of stretch! :-)
Anyway - Dizzy was written some 25 years ago - by 2 teenage kids out of a bedroom. So whilst not perfect, it wasn't bad - esp. given the price of £1.99. We are still proud that the game is fondly remembered by so many.
The recent iPad/iPhone/Android game came about after Paul Ranson wrote it "on spec." - not even knowing if it would ever see the light of day. I think he did a great job considering the risk he took. The game was very successful and reviewed well - so it's highly likely there will be more.
Regarding the bugs - an update is due VERY shortly - it contains various improvements too.
BTW - if you want to know more about Dizzy or any of our other games - we collect all the info here... (our memories are no good for this stuff ;-) ) www.OliverTwins.com
All the best,
Philip Oliver (aka an Oliver Twin).
The Best thing about these games was....
...I could buy them from my local sweetshop and they were £1.99, and they were genuine!
Not so many publishers, etc trying to rip off the paying public.
Fantasy World Dizzy perhaps?
The best one in my opinion, and the third in the main series. One of the very first puzzles was giving stale bread to a rat and there was a painting of Treasure Island Dizzy in the first above-ground room.
Head spinning
Remember Panic Dizzy, you had to move a conveyor belt of shape holes such that they matched the shapes that were falling. Got ridiculously quick and impossible to finish!
Dizzy Prince of Yolkfolk on the PC, one of my first PC games, looked glorious in VGA!
A re-imagining of the Dizzy games, perhaps as an RPG using the Dirt3 engine would be great, Codemasters!