2011 Reg roundup: Hacking hacks, spying apps and an end to Einstein?
Smartphones, privacy and a year of tears
Failing Grunt
One day in to the mission, however, and Phobos-Grunt was stuck in orbit around the Earth as both engines had failed to fire, and the Russian space command, Roscosmos, lost contact with its probe. Only after weeks of trying were Roscosmos and the European Space Agency able to achieve intermittent contact. The probe spent November and December in a slowly decreasing orbit, and by mid December it was clear the many attempts to re-start Phobos-Grunt had been fruitless: Roscosmos said it expected the dud Martian probe to re-enter the Earth's atmosphere and that the bits that didn't burn up would crash somewhere between January 6 and January 19, although it couldn't give an exact date or place.
Over to you, China.
You can read The Reg's detailed review of the year in space here.
Nokia's burning platforms and AT&T's burned fingers
Change often comes slowly and in predictable ways in telecoms.
For AT&T, the largest wireless carrier in the US with 95.5 million subscribers, change meant one thing and one thing only during 2011: getting even bigger. AT&T decided to realise this goal through the tried-and-tested method of corporate acquisition, and its target was America's fourth-largest carrier, T-Mobile USA and its 23 million subscribers. The deal, announced in March, would make AT&T's position as America's largest wireless carrier unassailable. The price-tag: $39bn.
AT&T glossed over the benefits to itself and instead talked up the positives for everybody else. The pros: merging the companies' GSM networks would boost US national security by strengthening and expanding critical infrastructure, there would be "significant customer, share owner and public benefits", thousands of jobs would be created, and the deal would somehow answer the call of the Federal Communications Commission (FCC) and President Obama to connect "every part of America to the digital age". According to Bloomberg went all out to lobby for the deal. AT&T wooed Democratic-leaning labor unions and drew letters of support filed with the FCC from groups representing cattle ranchers, songwriters, balloonists, governors and technology companies.
In reality, the deal would mean a major act of market consolidation in the US wireless market. It would eliminate one of the top-five suppliers and put AT&T in a commanding number-one spot in a nation where there already exists limited choice of wireless provider in local markets.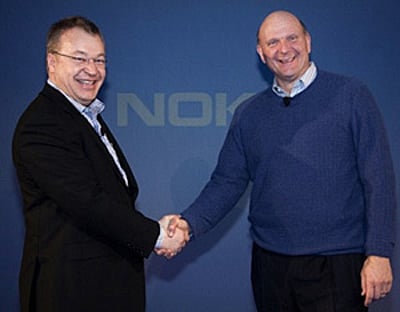 Burning bright: Nokia's Elop and Microsoft's Ballmer sealed a deal
The US government wasn't buying AT&T's pitch. The US Department of Justice, the office that's taken on IBM and Microsoft over the years, filed an antitrust lawsuit to block the deal, saying that tens of millions of US consumers would face higher prices, fewer choices and lower quality products for mobile wireless services. The DoJ pointed out that AT&T and T-Mobile compete head-to-head in 97 of the country's top 100 regional wireless markets.
In November, the FCC took the unusual step of requesting an administrative hearing - the last such hearing came in 2002 with the attempted merger of EchoStar and DirecTV. Both companies threw in the towel. FCC staffers said the AT&T deal would be anti-competitive and not in the public interest and they took issue with the claimed creation of new jobs saying that it would instead lead to "massive" layoffs. Next, the FCC published a damning 143-page staff report that took down all the reasons offered to justify the deal.
Eight months after it was announced, the merger was looking dead in the water. With the combined forces of the US government against it, AT&T and T-Mobile's parent company Deutsche Telekom withdrew their application for the acquisition from the FCC. Also, plans to dump certain assets in order to obtain regulatory clearance had gone cold.
For Nokia, the once mighty handset manufacturer bleeding market share to the iPhone and Android, a more radical pace of change was embraced. Five months after naming former Microsoft president Stephen Elop as CEO, and breaking with the tradition of a Finn running the company, Nokia's US-born chief said that his former employer's smart-phone operating system would be the platform of choice for all Nokia smart phones. It was a huge decision.
For 15 years, Nokia had defined itself as being the anti-Microsoft - going with open source. It was knee deep in Symbian, Meego and Qt.
Nokia first helped create Symbian and then became so invested in Symbian on its handsets, Nokia bought out the partners to create the Symbian Foundation. It also released the Symbian code under and Eclipse Public License to help encourage developer adoption of the code and, therefore, drive application development for its phones. Nokia also bought the Qt cross-platform application and UI framework, and it joined Intel in backing Meego to deliver a Linux distro for use in mobile computing. Now everything old, and open source, was dead.
Elop heralded the Windows move in his February "burning platforms" memo. "Nokia, our platform is burning," he told employees in a metaphor-heavy piece of writing. The first phones were planned - and delivered - for late 2011: the Lumia.
Elop's move was a huge shot in the arm to Microsoft's smart-phone play: a handset manufacturer dedicated to making nothing but smart phones running Windows Phone.
Elop had bet Microsoft and Windows Phone could help Nokia in a number of ways: cut R&D costs and bring online applications for Nokia phones that had been built for Windows Phone and that would attract customers to Nokia handsets. He'd also bet Nokia could siphon off some of the business going to Android and the iPhone by offering something that looked like Android and the iPhone. There's the added unknown of what positive impact a merger of Windows Phone and Windows 8 core might have - this is expected with the Apollo edition of Windows Phone due in 2012. Elop's move, meanwhile, was a huge shot in the arm to Microsoft: finally, at long last, a handset manufacturer had dedicated itself to making nothing but smart phones running Windows Phone.
Would it work for Nokia? By the end of the year things weren't looking promising. IDC found people in Nokia's native Finland were abandoning the company's phones. OK, so Finland isn't exactly a huge market in the global sense but it had been a loyal home market. Europeans, meanwhile, were lukewarm to the new Nokia phones. The Lumia 800, meanwhile, was barely shifting - making up less than one-percent of devices sold in November.
And if Elop had bought into the idea Windows Phone would restart the fortunes of Microsoft on smart phones, and thereby the fortunes of Nokia, he must have been having second thoughts by September. That was when Steve Ballmer let slip sales of Windows Phone devices were behind targets. By November, Garter reckoned Microsoft's share of the world-wide smart-phone market had - in a booming market - crashed.
Still, there's always plan B: wait for the kids to finally grow bored of Apple's iPhone and fall in love with Nokia.