Menu reservations
It's a heavily menu driven shooter for sure and there's no full-time mode dial either. A bigger issue for manual shooters is that the finger dial on the back has to operate both shutter speed and aperture size – you switch between the two by pushing downwards on the wheel itself.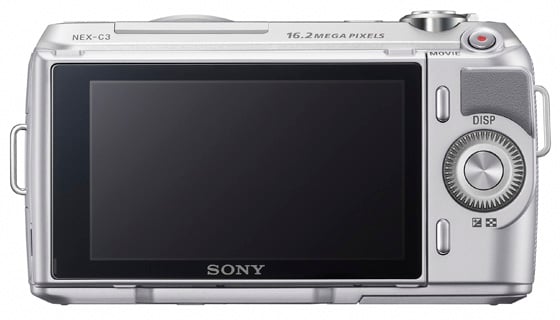 A lack of dedicated controls ramps up the fiddle factor on this model
Flicking through the available range is a bit tedious – the clickwheel is both very small (about the size of a penny) and quite stiff. Since each of the compass points on the wheel is also a button, it's easy to accidentally call a menu by pressing too hard.
On the plus side, the left and right sides of the wheel have no preset function, so you can set them in the menu system depending on which camera functions you use most frequently. Videographers will appreciate the full-time Movie record button on the right shoulder – you don't need to flick to another shooting mode to grab a quick bit of footage.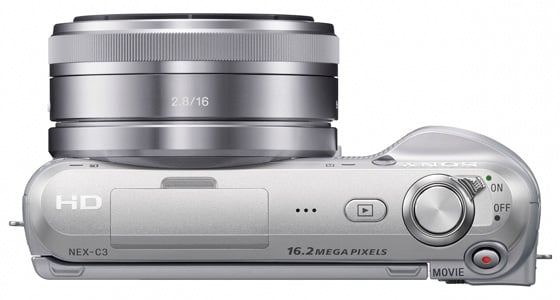 The built-in accessory port under the top flap takes the supplied flashgun and supports viewfinders
The 3in screen is excellent. Most importantly, its 920k-pixel resolution means it's extremely sharp, and the lack of body controls is explained by its size. Although the non-standard aspect ratio means the image preview doesn't fill the whole display.
Perfectionists will appreciate the ability to have a live, on-screen histogram, and the image preview changes depending how you've got the shutter, aperture and ISO set up, which makes this a decent camera for learning the photographic ropes. A final word in favour of the screen is that it tilts almost perpendicular to the body as you look down at it, or to nearly 45° if you hold it above your head.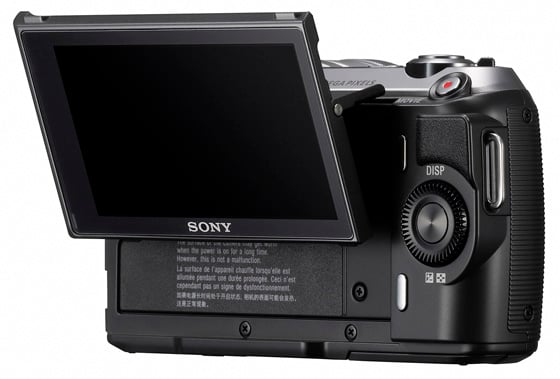 A tilting screen will always come in handy
So far so good, then, and the next bit of good news is that image quality is superb. It might be just a shade short of a budget DSLR such as the Nikon D3100, but there's still very little to complain about. ISO tests reveal just how good the NEX-C3 really is: images are impeccable up to ISO 2500, and even at ISO 3200 there's still plenty of sharpness.
COMMENTS
It's diffraction limiting...
I'd suggest a lesson in basic lens theory for the reviewer. The reason that f/32 is soft is nothing at all to do with the quality of the lens, but is just a function of the small aperture size. Any lens stopped down to F/32 (if that's an available setting) will exhbit the same effect. It's caused by the diffraction of the small aperture. In fact a 16MP APS-C sensor will gradually suffer increased levels of diffraction softening from around f11 onwards. By f32 it will be severe as the Airy disc covers about 8 pixels.
http://www.cambridgeincolour.com/tutorials/diffraction-photography.htm
I still don't get this category. Zoom, super zoom and bridge cameras seem much more appropriate for the intended market.
Re: Buy a cheap DSLR
Sorry John, here's the big red flag back at ya. I don't see where Tony asked for cheap or "not too big". Considering "too big" is very much a personal matter and I might even surmise the smallest cheap DSLR is "too big". A quick look online shows a Rebel T3 priced nearly the same as the NEX-C3 but I'd say it wasn't small enough.
Personally speaking, the Lumix gf3 has both the missus and me wanting to take more pictures because it's something that can easily carry every day as small is my main concern. Oh, this may come as a shock but I only carry a single lens; I have others that I may break out for special occasions like weddings or a vacation to Angkor Wat but mostly it's one lens, the smallest one actually. If one day I am as good as the tool, I'll consider moving up but I expect sensor technology will easily outpace me so I may even get to move to a smaller size camera. I'll finish with the mention that the missus insisted on getting the gf3 (damn my bad luck) after using my g2 because the g2 was "too big" and is capable of taking better pictures than we are.
As a relatively happy dSLR user I'll disagree with you there. A decent EVIL (electronic viewfinder, interchangeable lens... not sure if this is a well known term!) camera can take the place of any other sort of camera with the exception of a super compact (it won't ever be as small) and it can perform most camera uses with the exception of sports/fast-paced photojournalism (because the autofocus is too slow).
You can put on a big zoom for wildlife or event photography, you can put on a macro lens that will vastly outperform anything on a non-interchangeable lens camera for small subjects and product photography, you can put on a mid-range lens for 'every day' use, you can put on a wide-aperture fast prime for evening/indoor events where you don't want to use flash. At all other times, you don't need to deal with the inconvenience of the features you don't need (eg, the bulk of a superzoom) and the whole package can still be reasonably discreet (with a pancake prime lens it'll be pocketable).
Like as not you'll end up with better image quality (which is utterly irrelevant for most people, but useful if you're making medium-sized or larger prints) and better low light performance than any smaller sensor digital camera (eg, any of the kinds you listed) and a device which can still do more things and do them better than a combination of super-compact and super-zoom.
"Bridge" cameras look a bit naff by comparison, superzooms too bulky when you don't need the zoom, and normal zooms not particularly versatile. The only thing that might be more useful for most people is a decent super-compact, because you can take it everywhere really easily... and people seem to prefer using their phones for that!
Thanks, El Reg
A proper photo-literate review. ;)
Personally, I can't stick the NEX series; the lenses are so out of proportion with the bodies, and the handling is absolutely terrible - I mean, no mode dial? Only Sony would think that might work for serious photographers.
However, there's no denying that the results are great - it's just that with lenses that size, I'm far from clear on the benefits of having a smaller body. Make both camera and lens pocketable and you hit the jackpot; however, this combo still needs to live outside, so you might as well have a low-end DSLR with all the attendant benefits and not a huge amount more weight.