Network kit sales outpace servers in Q3, overall picture looks decent
Work in a data centre? No sign of pink slip doom yet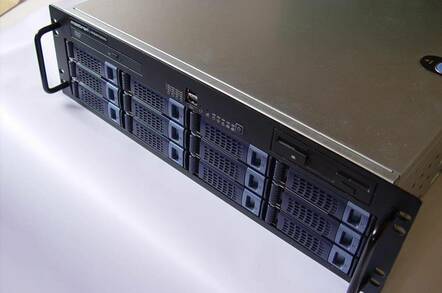 The data center networking market is keeping pace with sales of servers, according to the latest research from IDC. The company's box counters say that in the third quarter ended in September that revenues for switching and routing gear for the glass house rose by 6.1 per cent to $5.9bn.
As El Reg previously reported, IDC reckons that server revenues rose by 4.2 percent in the same three-month period, hitting $12.74bn; server shipments were up 8.7 per cent worldwide, to 2.07 million units.
Server, storage, and network equipment are not generally all replaced at the same time in the data center, not just because you never completely change the gear in a data center if you want to be able to isolate issues, but because these three classes of products evolve on their own timescales. (Of course, with Intel wanting to be at the heart of all servers, storage arrays, and networking gear, that could very well change in the next decade.) The fact that both server and network gear sales are rising while the global economy is a bit edgy is a good sign for the health of the IT market. Switches started out slow in 2011 and have been heating up, while server sales have been cooling as 2011 progressed.
IDC's networking experts say that during the third quarter, 10GE switching gear with a record 2.09 million ports were sold – coincidentally almost in lockstep with server shipments and twice as many ports as were sold in the third quarter of 2010. While IDC did not divulge the figures for 10GE switch sales (you have to pay to see that data), the company said that 10GE switch revenues were up 29.9 per cent, driven by both data center and campus deployments. Gigabit Ethernet switch sales rose by only 2.7 per cent in Q3, but port shipments rose by 27.1 per cent, with the price/performance increases allowing for more companies to make the transition from 100Mbit/sec Fast Ethernet to Gigabit Ethernet gear. Gigabit Ethernet equipment accounted for 61.6 per cent of worldwide Ethernet switching revenues and 46.9 per cent of all Ethernet port shipments.
Cisco Systems, the juggernaut of the networking market still, had a 73 per cent share of 10GE revenue in Q3 and a 66.5 per cent of revenues for all Ethernet Layer 2/3 switches.
The router market was stalled in both the Americas and EMEA regions, growing only a half point in each region during Q3. The Asia/Pacific region grew router sales by 9.4 per cent, helping to pull up the global average, with overall router sales up 2.8 per cent. ®
Sponsored: Minds Mastering Machines - Call for papers now open