China pumps CCTV into Freeview HD boxes
All the news the Chinese want you to see
China has launched three TV channels onto Freeview HD, so now those few who are equipped with compatible, and connected, Freeview boxes can see how China sees the world.
The channels are delivered using the Vision IPTV platform, so aren't broadcast at all despite appearing in the EPG. The three channels (which cover news, documentary and heritage) are video-on-demand services selectable from a carousel which pops up when Channel 111 is selected.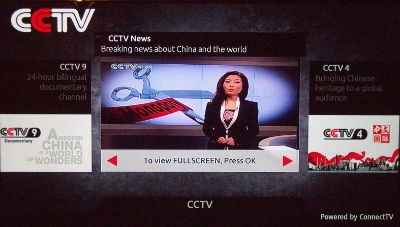 This is part of the move by all sorts of governments to spend money pushing their own point of view abroad (as the World Service has done for us for decades), but also shows how the lines between broadcast TV and VOD (Video On Demand) are changing.
Freeview HD boxes already support the BBC iPlayer, and can render similar interfaces (using the MHEG mark-up language) to provide the kind of carousel being used by CCTV - it lacks the smooth animation possible on a native client, but provides the same functionality.
The only thing holding back this kind of innovation is the penetration of Freeview HD boxes, and the patchy adherence such boxes have to the agreed standards, but both those things are changing and when a VOD channel can appear in the EPG alongside BBC1 and 2 one has to ask how long niche broadcasting will need to exist at all. ®
Sponsored: Minds Mastering Machines - Call for papers now open