A year in spaaaaace: El Reg looks back on 2011
Era of the spaceplane ends, robot exploration continues
The truth is out there
For all those who want extraterrestrials to be able to pick up the phone to us whenever they want, the biggest hit had to be the cancellation of funding for SETI.
The Search for ExtraTerrestrial Intelligence was forced to put its Alien Telescope Array to bed in April because it no longer had the readies to run the radio dishes that searched the night sky for little grey men.
Luckily, celebrities like the prospect of a close encounter as much as the next human, so a fundraising drive by SETI bagged the $200,000 it needed to restart ATA by August, with kind donations from people like science-fiction author Larry Niven and actress Jodie Foster.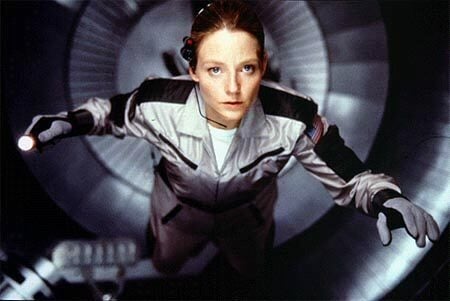 Thousands of Americans thought an easier, cheaper and quicker way to find out we're not alone in the universe might be to ask the US government to admit they'd been hiding the fact for years, and signed two e-petitions to try to force that to happen.
The democratic process did get an answer, but not one that was likely to shut the conspiracy theorists up.
"The US government has no evidence that any life exists outside our planet, or that an extraterrestrial presence has contacted or engaged any member of the human race. In addition, there is no credible information to suggest that any evidence is being hidden from the public's eye," government stooge space policy White House spokesman Phil Larson said.
Meanwhile, the search for aliens continued, mostly by looking for microbial Martians and the fountain of all life - water.
In March, a NASA scientist claimed he'd found evidence of fossilised bacterial remains in an ancient meteorite, though it's not the first time that's happened.
The Journal of Cosmology, where the study was published, said they respected Dr Richard Hoover, but were open to other boffins giving their opinions since the findings were quite controversial.
Scientific eyes were still trained on Mars for some sign of the elusive H20 many seem sure is, or was, there.
An ESA satellite captured a shot of what appeared to be the meandering channels of a dried-up river on the surface of the Red Planet and the US' Mars Reconnaissance Orbiter took some snaps of streaks in the sand that look like the remains of flows of briny water.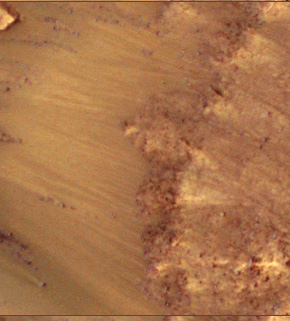 HiRISE image showing possible water flows on Mars. Credit: NASA
Meanwhile one of NASA's old rovers, the Opportunity, sent back a shot of what boffins reckon could be a vein of gypsum, which could only really have been formed by flowing water.
And water was not just potentially flowing on Mars, scientists also reckon that a huge water lake on a Jupiter moon could harbour alien life. The lake lies underneath an ice cap covering Europa, but the boffins found evidence that the ice is mixing with the water (rather than blocking it off), pushing up the probability of life in the depths below.
Whether or not Marvin the Martian (or Jane the Jovian) is there, NASA is also searching for habitable planets, just in case we need a handy spare to run to in the event of some form of Armageddon brought on by our complacent destruction of Earth.
The first possibility has already been spotted by NASA's Kepler mission. Kepler 22b is in the 'habitable zone' around a star - the area where water could exist on the planet's surface - and it's 600 light years away.
And the US Air Force's Space Command is making sure there won't be any nasty surprises if and when we get there, giving SETI some more funding to check out the habitable worlds found by Kepler.
Sponsored: Application managers: What's keeping you up at night?