A year in spaaaaace: El Reg looks back on 2011
Era of the spaceplane ends, robot exploration continues
Russian boffins sweat under Medvedev's gaze
And as if the Russian space agency wasn't depressed enough, their president, Dmitry Medvedev, suggested he might criminally prosecute those responsible.
"Recent failures are a strong blow to our competitiveness. It does not mean that something fatal has happened, it means that we need to carry out a detailed review and punish those guilty," Medvedev told reporters in televised comments.
"I am not suggesting putting them up against the wall like under Josef Vissarionovich (Stalin), but seriously punish either financially or, if the fault is obvious, it could be a disciplinary or even criminal punishment," he said.
While definitely a harsh measure, Medvedev's frustration was understandable; Phobos-Grunt wasn't the only public failure for Russia's space programme.
Following NASA's retirement of the space shuttles, astronauts were now relying on Russia's Soyuz rockets to get them to the International Space Station and back.
Concerns started early in the year, when Russia pushed the launch of Soyuz TMA-21, due to carry cosmonauts Andrei Borisenko and Alexander Samokutyayev and astronaut Ronald Garan to the station, because of "technical problems".
However, a short time later, Soyuz TMA-01M safely carried three 'nauts off the ISS and back to Kazakhstan, leaving three others to await the delayed crew members.
Then, the delayed TMA-21 got up and docked with the ISS without incident and the TMA-20 brought three more crew members safely home in May.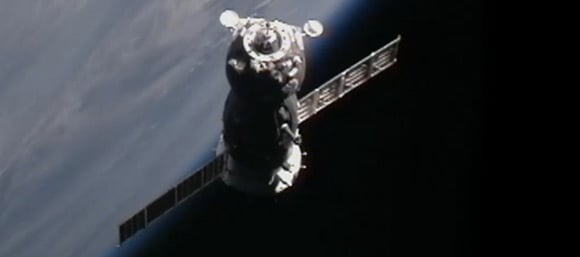 The Soyuz TMA-21 just before docking with the International Space Station. Credit: NASA
The accident, where thankfully no-one was hurt, happened in August, when an unmanned Russian supply truck, a Progress, crashed in Siberia when the rocket failed after launch.
Progress supply vessels are powered by Soyuz-U rockets, the same booster that pushes the manned Soyuz crafts, so if there was a problem with them, then 'nauts couldn't go up to the ISS anymore.
After an investigation, the Russians successfully sent another Progress cargoship to the ISS at the end of October (incidentally carrying the first fondleslabs in space), which cleared the way for the next manned mission.
Crew captain Anton Shkaplerov said before lift-off that there was "no nervousness" in the crew and they had no doubts about the technology, and was proved right when the rocket launched without a hitch.
Despite the recovery, the Russians are definitely having their issues, which may well stem from the general belt-tightening of all governments in the current climate.
Sponsored: Minds Mastering Machines - Call for papers now open