A year in spaaaaace: El Reg looks back on 2011
Era of the spaceplane ends, robot exploration continues
Part two of the end
Just a little over a month later, Endeavour was ready to take to the skies for the penultimate shuttle launch, with the important mission of delivering the Alpha Magnetic Spectrometer (AMS) to search for antimatter, dark matter, cosmic rays and other stuff that could explain the origins of the universe.
The launch was subsequently delayed by 10 days to 29 April, to make sure it didn't impede the docking of a Russian Progress supply vehicle with the ISS, then it got another 72 hours on the launchpad while engineers looked into the failure of a heater circuit, which turned into a big enough problem to require delaying until May 16.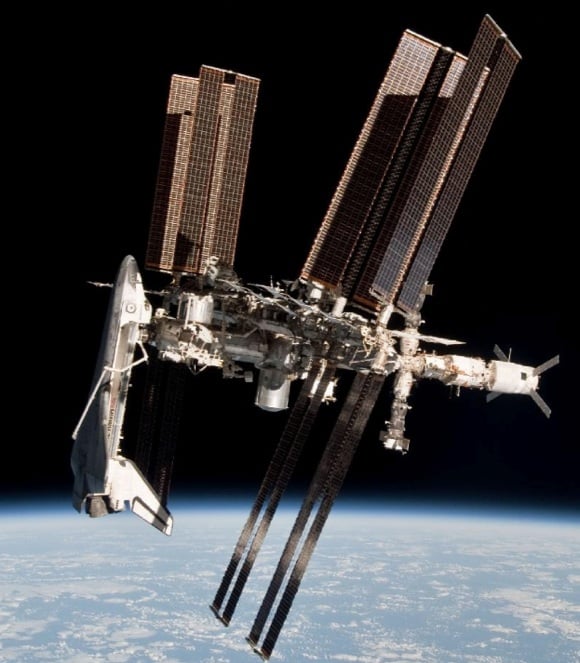 Shuttle Endeavour docked with the ISS. Credit: NASA
Having sorted all that out, Endeavour got off the ground nicely in the end, carrying not just the AMS, but the possible beginnings of a race of Space Krakens in the form of a squadron of squid on which the effects of microgravity are unknown.
NASA haven't reported back on the state of the squid yet, but Endeavour mission specialists Drew Feustel and Mike Fincke completed two spacewalks, the second of which was the sixth-longest spacewalk ever at 8 hours and 7 minutes, before coming back to Earth on 1 June.
Endeavour spent nearly 300 days in space during her career and orbited our planet 4,671 times, NASA said in its online retrospective on the shuttle.
The final last ever shuttle
Finally it was the turn of the last space shuttle to make its final flight. Atlantis blasted off for the ISS on July 8.
The Atlantis crew spacewalked, rigged up the Robotic Refueling Mission experiment on the ISS and were treated to more celebrity wake-up calls.
Elton John serenaded the 'nauts with Rocket Man and his own personal message, while REM's Michael Stipe crooned Man on the Moon to go along with his greeting.
Paul McCartney gave Good Day Sunshine a spin, wishing the crew good luck on the mission and Beyonce belted out a bit of Run the World (Girls) along with the obligatory shout-out to women in space.
But the crew also had to get on with some actual work, which included rousing one of Atlantis' general purpose computers when it clapped out, and paying the spacecraft an awkward tribute before returning home on 21 July to really, finally end the shuttle programme.
With the programme officially kaput, over 2,000 employees of the United Space Alliance (USA) were given their pink slips. The joint venture between Boeing and Lockheed Martin ended up reducing its staff to around 3,100, from a 2003 high of 10,500.
Sponsored: Minds Mastering Machines - Call for papers now open