A year in spaaaaace: El Reg looks back on 2011
Era of the spaceplane ends, robot exploration continues
Space is cool
Apart from boldly going where no one has gone before, finding us somewhere to go when Armageddon hits and trying to make contact with whoever, or whatever, is out there, the more immediate benefits of space exploration were also evident throughout the year, as spacecraft, satellites, telescopes and other tech expanded mankind's scientific understanding and gave us cool pictures to look at.
We had more than one glimpse of the scientific wonder of black holes, whether supermassive or garden-variety.
One was beautifully pictured by international boffins by melding together images from telescopes across the southern hemisphere.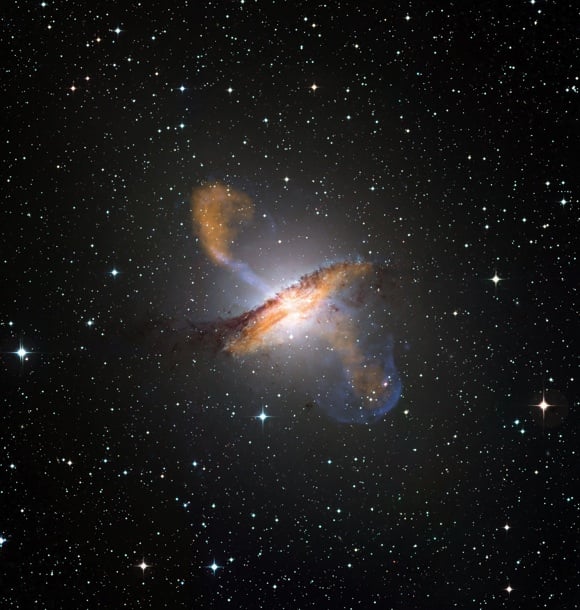 Particle jets belching from the supermassive black hole at the centre of Centaurus A. Credit: ESO/WFI (visible); MPIfR/ESO/APEX/A.Weiss et al. (microwave); NASA/CXC/CfA/R.Kraft et al. (X-ray)
While two independent research groups found a cloud of water vapour around this specimen.
Stargazers at the European Southern Observatory spotted a supermassive black hole gobbling up a huge gas cloud and in the process showing that things do go bendy and stretchy around a singularity.
And just this month, space boffins discovered the supermassive black hole – a behemoth with nearly ten billion times the mass of our Sun and an event horizon that would stretch five times further than the orbit of Pluto – enough to swallow the entire solar system.
Also breaking records, NASA's Voyager space probes continued to fly towards deep space, into never-before-seen void beyond the edge of the Sun's influence on our solar system.
Voyager 1 reached the very edge of the heliosheath – the skin of the 'bubble' of our star's power – on 5 December and NASA boffins are saying we won't have long to wait until we see "what the space between stars is really like".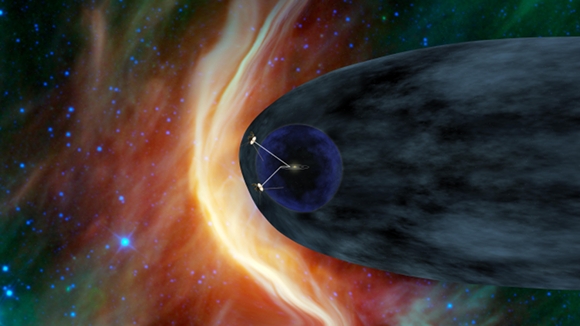 Artist's impression of Voyager 1 and 2 in the heliosheath Credit: NASA/JPL-Caltech
As previously mentioned, NASA has a keen interest in asteroids, whether Earth-killing or not, and so kept the world updated throughout the year on the progress of the Dawn probe, dispatched in 2007 to check out the asteroid belt giant Vesta.
The first of many pictures from the probe found its way back to Earth in May, quickly followed by a second snap as it headed into orbit around the second-largest object orbiting between Mars and Jupiter.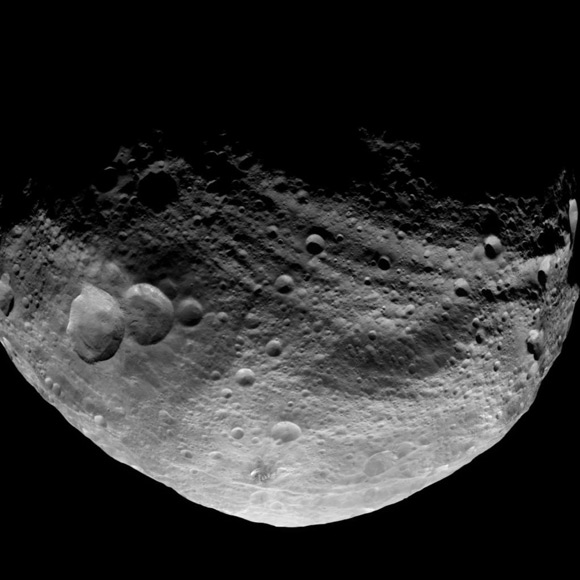 Dawn image of Vesta's dark side. Credit: NASA
Once up close, Dawn was able to pick up features on the surface of the asteroid, including large ridges running along for miles, which boffins are currently pondering.
Dawn was also able to pick up information about the composition of Vesta, discovering that the asteroid was much more like a planet than the usual kind of rocks floating around out there.
"The distinct compositional variation and layering that we see at Vesta appear to derive from internal melting of the body shortly after formation, which separated Vesta into crust, mantle and core," the deputy principal investigator, Carol Raymond, said.
Sponsored: Minds Mastering Machines - Call for papers now open