A year in spaaaaace: El Reg looks back on 2011
Era of the spaceplane ends, robot exploration continues
Apocalypse now, or next year
With 2012 just around the corner, the possibility of the Apocalypse seems more likely than ever to some, and some who should know better, like NASA, weren't doing too much to quell the potential panic.
Despite framing each of their releases as a story of the lack of threat to the planet, the US space agency nonetheless managed to convey just how precarious a position the Earth can find itself in.
In August, for no apparent reason, NASA released a statement that denied that Comet Elenin was on its way to destroy the planet.
Since most people weren't aware they had claimed it was, the strident denial was something of a worry.
"Comet Elenin poses no threat to Earth," NASA said, going on to say that it was too small to do anything and anyway wasn't going to pass close enough to the Earth to worry about.
The comet did in fact break up on its way to Earth, reducing its total insignificance even further, and in no way making people wonder if a crack team had to be dispatched to deal with the apocalyptic asteroid so that the rest of mankind could continue their lives in ignorance of the close shave.
Speaking of apocalyptic asteroids, NASA also issued the results of multi-year survey the agency undertook of near-Earth objects, using the Wide-field Infrared Survey Explorer (WISE).
The agency reassured folks that there were fewer asteroids big enough to be Earth-threatening than boffins had previously thought. However, it couldn't help adding that strictly speaking, there was still plenty of them.
NASA also said that the chances of a large asteroid hitting the Earth before scientists could find it and warn about it were "substantially reduced". Just what we would do with such a warning (panicking? rioting? looting? blissful ignorance at the hands of a government that wants none of those thing?) was not a point the agency elaborated on.
Just a few months later, the ominous-looking 'asteroid' YU55 headed towards a close brush with the Earth. NASA said the rock - a gigantic, spinning, black sphere - was expected to make a close pass by the planet, coming well inside the orbit of the Moon.
The agency subsequently felt the need to again insist that the asteroid would pass Earth safely, as the extremely unusual-looking asteroid came closer to us.
Not content with concerning itself with what might fall on us from above, NASA was also keen to let us know that supervolcanoes right here on Earth were "unlikely".
The agency couldn't deny that super-volcanoes had laid waste to the planet in the past, or that they would happen again at some point or another, but it was at pains to say that there was no way to forecast that it would happen in 2012.
However, since scientists can't predict accurately when a supervolcano might erupt, it could just as easily be next year as any other time ... Comforting.
Returning to celestial death raining down from above, NASA also wanted to clear up the whole issue of solar flares, a common explanation for the Mayan calendar's predicted end of the world next year.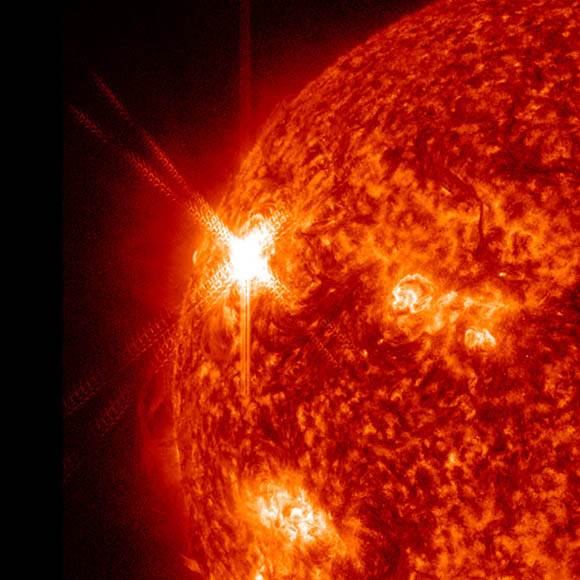 Solar flare from sunspot AR1339. Credit: NASA/SDO
NASA said that there just "isn't enough energy in the Sun to send a killer fireball 93 million miles to destroy Earth". However, solar flares are a problem, in "the same way hurricanes are a problem" – which is a not insubstantial problem. But not to worry, "one can protect oneself with advance information and proper precautions".
Sponsored: Minds Mastering Machines - Call for papers now open