A year in spaaaaace: El Reg looks back on 2011
Era of the spaceplane ends, robot exploration continues
Upstart start-ups get a look-in
But despite all the bad that went with the closure of the programme, there was also some potential good - possible successors to the shuttle.
At first the field seemed to be opening up to commercial companies that might be able to provide rockets at significantly lower costs, such as Elon Musk's SpaceX firm. But NASA was having a hard time letting go of the expensive and lavishly-staffed way it has always done things and announced it was planning a new kind of rocket based on recycled shuttle (and Apollo) technology, the Space Launch System.
NASA wasn't completely blind to the benefits of commercial space travel, however, setting up and distributing Commercial Crew Development funding for possible manned flights to Amazon-ian Jeff Bezos' Blue Origin space venture, Paypal alumni Elon Musk's SpaceX and the Sierra Nevada Corporation.
Out of that lot the prize goes to SpaceX, which will have the first mission to the International Space Station by a privately built and operated spacecraft early next year, NASA announced. The Dragon capsule, sitting on a Falcon 9 rocket, will (hopefully) deliver supplies to the ISS.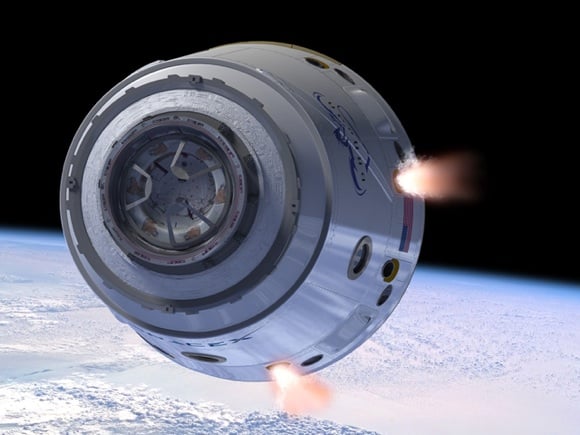 The Dragon capsule with 'Draco' rockets in action. Credit: SpaceX
Nonetheless NASA isn't quite ready to let go of the old days, sending some of the commercial crew funds the way of United Launch Alliance - basically the entire existing US rocket business amalgamated into a huge monopoly. ULA is a joint venture of guess who? Yes, Lockheed Martin and Boeing.
ULA's offering for commercial manned flights is the trusty Atlas V rocket, which is to be man-rated to send astronauts into low-Earth orbit.
Plenty of Atlas Vs have already flown with unmanned missions - for instance carrying Juno, NASA's Jupiter probe, into space.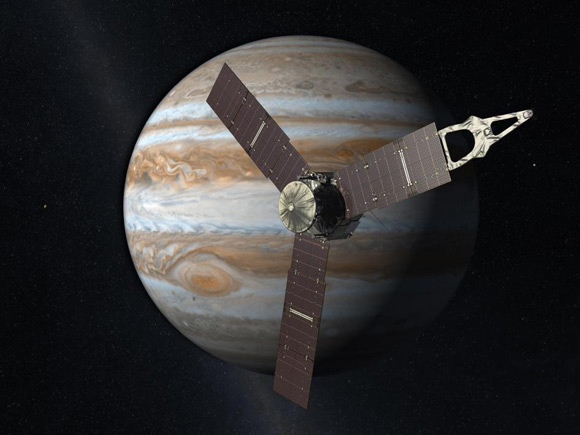 Artist's impression of Juno at Jupiter. Credit: NASA
Juno, which will be busily unlocking the secrets of the early solar system when it eventually makes it to Jupiter in 2016, launched in August.
Sponsored: Minds Mastering Machines - Call for papers now open