It's show time
The integrated projector is no light cannon – 3M quotes 20 lumens, bright by this category of projector, but still limited – so you have to use it in a blacked out room for decent results. Colour fidelity is good, and a little focus wheel on the side of the unit tightens things up nicely.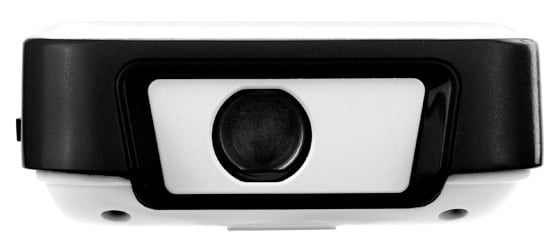 The business end for projection
There's no doubt that 3M has done a grand job squeezing a lot of tasty tech into the CP45. Where the wheels rather fall off the wagon though is usability. The soft-touch control pad is an ergonomic disaster. It's hard to tell if and when you're recording, and as there's a slight delay between button-touch and confirmation in the LCD display, I often found myself repeatedly start-stopping. It's also impossible not to accidentally brush a button; that bright white LED spotlight flash was forever going off, blowing any attempt at stealth filming.
My attempts to use the HDMI output failed to work, but I'll admit that I've begun to suspect the reliability of the lead I used since testing. Wherever the fault lies, firmware fixes are likely if the support for the MPro range is anything to go by. Incidentally, its composite AV analogue connections can be used with similarly equipped DVD players and even iOS devices with the right adapters, enabling projection alternatives from a variety of sources.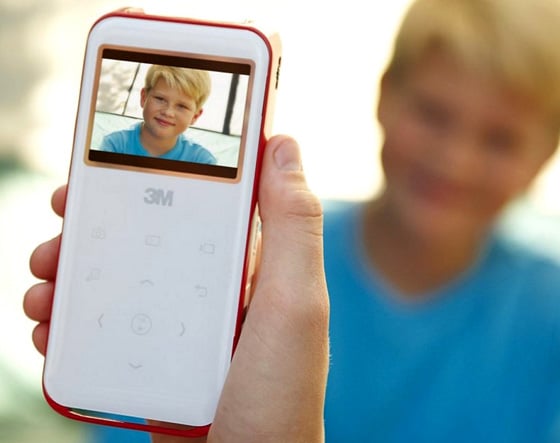 Great concept, but needs refinement
Verdict

As an example of compact engineering, the CP45 is undeniably impressive. But it's not a whizz bang buy. Many of us will already have comparable functionality in our phones, making only the LED projector element a novelty. However road warriors who need to deliver video presentations on the move may find it easier to justify the expense, but if video capture isn't an issue, they may be better off looking at 3M's MPro range. All in all, the CP45 is technically impressive but not absolutely compelling. ®
More AV Gear Reviews

Sony
HMZ-T1
3D headset
Viewsonic
PLED W500
portable projector
Sony
VPL-HW30ES
3D projector
BenQ
W1200
HD DLP projector
Panasonic
HM-TA20
pocket camcorder

3M CP45 pocket camcorder and projector combo
Hybrid camcorder and LED projector.
COMMENTS
Generic product rebadged as "3M"?
Is this actually made by 3M or is it (far more likely) basically just some rebadged product made by a Chinese manufacturer?
I didn't think 3M had done consumer-focused stuff like this since they spun off Imation (itself now just another vapid marketing-driven, hollowed-out accumulator of well-known brands it can slap on generic tech consumables etc).
aaaah my ears
I've seen phones with better video and sound quality, why would anybody want this..
"a couple of copulating iPhones" ?
http://www.youtube.com/watch?v=4AN1mntIDwk