Shareholders rage over Imation's incredible 88% plunge
How the leading disc and flash maker came a cropper
Revenue and profits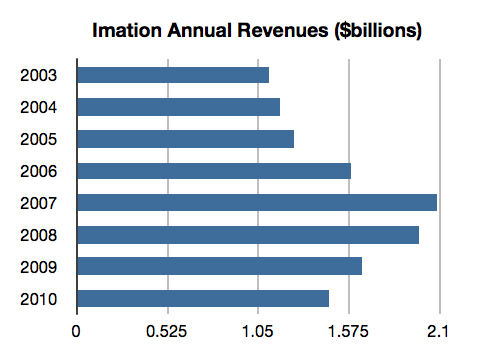 Imation annual revenues from 2003 to 2010.
The annual revenue (above) and profit/loss numbers (below) show the scale of the problem, with plunging revenues and deepening losses.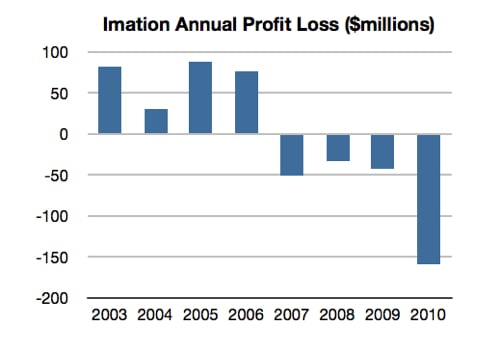 Imation annual net income numbers 2003 - 2010.
Imation's growth strategy
In February this year Imation CEO Mark Lucas outlined a 5-pronged strategy, with the intention of returning Imation to revenue growth by the end of 2011. Firstly, the dying tape and optical businesses will "use a disciplined, end-to-end product life cycle management process designed to deliver products with higher gross margins while phasing out low-margin businesses". Prongs two, three, four and five were new core product technology areas: secure storage, scalable storage, wireless connectivity, and magnetic tape.
Secure storage meaning protected thumb drives and hard disk drives? That's surely not a significant business, not at Imation scale, especially not when hard disk drive vendors sell self-encrypting drives.
Scalable storage means RDX and InfiniVault, disk-based data protection when general small/medium business protection is set to move to the cloud, limiting RDX's prospects, although RDX revenues are growing at 24 per cent annually.
Wireless connectivity meaning Link Wireless Audio/Video Extender products to project audio and high-definition video content - internet TV, movies, photos, online games, web video conferencing and even business presentations - to a television or projector. Really? With Seagate and WD making Wi-Fi and router-connected hard drives serving media to output devices? There is also wireless link which creates a secure, wireless connection from a laptop to a digital projector.
Magnetic tape meaning LTO-5 since all other formats are dying businesses. Here Imation appears to be competing with HP, IBM and Quantum, the LTO threesome.
Most of this can be judged unrealistic. Playing about with Wi-Fi, muddling about with securing USB sticks and external disk drives; calling RDX scalable storage when everyone else understands scalable storage to be cloud storage or big data arrays like the EMC Isilon jobs, and then calling tape both a dying business and yet a core business? Is it surprising that the share price has continued resolutely downwards?
Imation describes itself as undergoing a "strategic transformation to a global technology company focused on growth opportunities in data storage, protection, and connectivity". For disappointed investors this doesn't ring true.
They think Imation needs a real growth strategy, this view was reflected in the earnings call comments.
Earnings call
Lucas said in the call: "Our goal is to return to revenue growth by the end of 2012. We continued to deliver growth in our secure and scalable products during the quarter, but we have not yet hit the inflection point where these revenues will offset declines in our traditional storage area … We saw some positive signs in terms of new product growth. We need more."
Five years after the XtremeMac purchase he had this to say: "In our audio and video information products, formerly called consumer electronics products, we saw a 12 per cent growth in accessories with several new retail placements for our XtremeMac line. Excluding rationalised video products, other audio and video information products grew almost 8 per cent."
That is not impressive. If the rest of the business was producing good profits then the reasonable growth seen in RDX and secured storage products would be readily acceptable but, on their own and against the ongoing decline in tape and optical media these investments could look like too little too late and too limited in growth prospects.