Shareholders rage over Imation's incredible 88% plunge
How the leading disc and flash maker came a cropper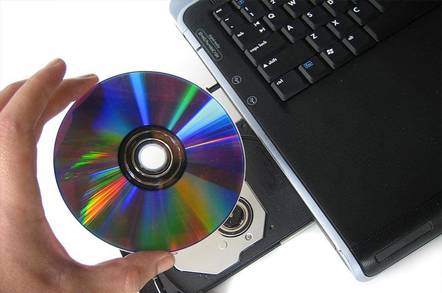 How do you build a $226m company? Start with a $2bn one. This joke could apply to Imation, which could go the way of Kodak and turn shareholder value into dross, because its management, facing declining sales of old technology, is late to respond and now buying bum companies with crappy prospects.
That's the view implied by transcribed comments from the 2011 third quarter earnings call. Imation's shares, at $5.93, are just 11.5 per cent of their $48.81 peak value in 2006. The company has a current market capitalisation of $226.02m. On June 20, 2006, it was $1.96bn. Imation's management has lost 88.5 per cent of the company's share value, a humungous $1.734bn of market capitalisation since then. A harsh view is that it has been a prolonged and spectacular executive management failure.

Imation share price and dividend payments chart, 2003 - 2011
How has it come to this?
In 2006 Imation was riding high, selling millions of optical disks, floppy disks and tape cartridges that it made in its own factories. Now it is basically a brand operation shell, selling secure USB memory sticks and a few Wi-Fi and removable disk drive products as a result of recent acquisitions. That year it bought Memorex and the TDK media recording businesses and so became the largest supplier of CD-R and DVD media in the world and was also, at the time, the leader in flash media sales.
But from then on the company lost ground as the products it sold started becoming less and less relevant. Imation's share price plunged throughout 2007, from its peak of $48.50 down to $21.99 by the end of the year.
In 2008 it bought XtremeMac which provided accessories for the Mac, but this was a pretty futile attempt to escape the jaws of the long-term vice it was in. The tape market was contracting rapidly as backup targets changed from tape drives to disk arrays, leaving tape the smaller archive business. Simultaneously the optical disk business declined as well with the post-DVD format wars which eventually saw Blu-ray rule over a much, much smaller optical media roost as consumers increasingly downloaded music and video content from the internet.
Shareholder to execs: 'We're not seeing anything, we're just seeing cash leave the balance sheet.'
For Imation, the escape routes from the declining tape and optical media markets turned out to be illusory or cul-de-sacs.
In a way the company was like that old Remington shaver company, but only if you can imagine it selling blades and shaving cream and not the razors. As wet shaving gave way to dry shaving, Remington switched to electric shavers - but Imation, stuck in the razor blades mindset, looked for new razor-blade type products and seized on USB memory sticks, external disk drives and Wi-Fi gear, thinking it could stay a massive company selling these bought-in commodity items through its channel under its umbrella brands.
In the external disk drive market it found itself competing with Hitachi GST, Seagate, Toshiba and Western Digital who, collectively, outsold it. Wi-Fi is a desktop and notebook computer preserve with an admixture of external hard drive Wi-Fi media servings from Seagate and WD. There is little scope for outside suppliers to make any great impact here.
Sponsored: Minds Mastering Machines - Call for papers now open