The Google Review: Now Speak Your Brains
Opt in for your rights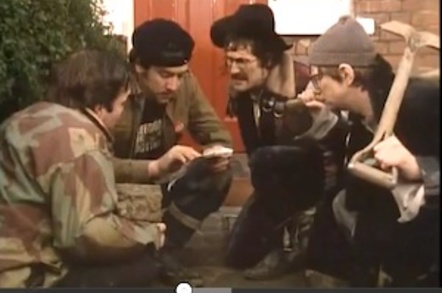 The Business Department BiS has launched a copyright consultation, inviting views on the recommendations raised in the "Google Review", as the "Hargreaves Review into IP and Growth" became known.
Hargreaves was tasked with looking for changes in UK IP law that could stimulate economic growth. Ian Hargreaves' review featured significant input from the IPO, formerly the Patent Office, which was once at the Ministry of Fun, but is now an ideologically supercharged hothouse within BiS. Hargreaves and the bureaucrats faced two significant challenges.
One is that the small and medium-sized businesses that try to create wealth using the patents and copyright systems have a very different view of the "problem" than Google does, or a bureaucrat does. Patents are ruinously expensive for a clever inventor to defend, and many can't afford to do so. Copyright can't be cheaply or effectively enforced online - a big problem for the entire supply chain in various sectors from photographers and visual artists, to independent film makers, to labels - to name just a few.
When digital SMEs were actually asked what they thought of the IP landscape, they were quite emphatic. Only 10 per cent thought copyright was unfair, 7 per cent said it stopped them innovating, and only 5 per cent thought the UK copyright regime stopped them innovating. Large majorities of two-thirds or three-quarters thought copyright fair, and encouraged innovation. These figures, by the way, are from a report included in Google's submission, created at Google's expense. [pdf. Over half of SMEs want better enforcement of their rights as inventors and creators. 52 per cent of SMEs said the costs of IP enforcement deterred them from using the system. It might have been expected, therefore, that Hargreaves would focus his time on enlightened enforcement suggestions, making policing cheap to stimulate growth.
But any attempt to enforce IP brings out the Chicken Little crowd, honking furiously that the sky is falling in on them. To enforce copyright online risks destroying the Unicorns' natural habitat: the cybernetic meadow. So the empirical evidence was not the answer Cameron and his Special Advisors wanted to hear. Hargreaves dealt with this by ignoring the empirical evidence, and by leaning on anecdotes instead - and then hoping somebody would manufacture some evidence more favourable. This duly arrived in the summer, from the IPO, in its rushed "economic impact" - which promised enormous riches to the nation if the Google Review was implemented. We picked apart here - and here too, where it verges on the surreal.
The second problem facing Hargreaves is that there's very little scope for wriggle room when it comes to IP. Nations that sign up to Berne and WIPO, and European nations that sign up to the ECD, can't do much more than withdraw from the system wholesale. There is scope for how some exemptions are implemented, though, and the Google Review seizes on these with gusto.
So Hargreaves recommended - and we are invited to comment upon - new exemptions for format-shifting and parody, a widened exemption for non-commercial research and revising the exceptions for education and disabilities. UK Music said the format shifting exemption was "long overdue" but asked why British musicians were being penalised. The format shifting exemption is permitted under the EC Commerce Directive providing that the member state provide "fair compensation" - and most do. In Sweden iPods carry a levy of €19. But the IPO doesn't want to introduce one.
The Government also wants comments on Orphan Works clearance, making it easier for libraries to profit digitised collections, and the Daily Mail to lift photographs from Twitter. This revives Clause 43 of the DEA that was shot down.
But Orphan Works is part of the main course - a huge proposed change in copyright.
Sponsored: Minds Mastering Machines - Call for papers now open