Dell flees netbook market, dumps Minis
Long live the ultrabook, right?
Dell has pulled out of the netbook market in a move that pretty much seals the fate of the pint-sized form factor. The Dell Mini range is no longer available on the website and the tech titan's US office has confirmed that the product line is dead.
First announced in 2008, Dell Minis had 7in or 10in screens, were powered by Intel Atom processors and, along with offerings from Samsung, Asus and Acers, were key products in the netbook market.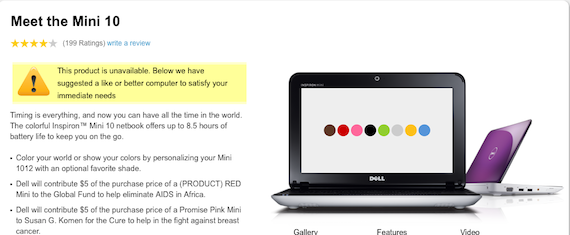 The Mini appears to have been discontinued on Dell's US site
Samsung is also rumoured to be ditching its netbooks according to an email sent out to distributors a few weeks ago.
Dell Mini mourners filled up the mydellmini forum with tales of the great times they'd had with their small computers, but the market is likely to move on fast and ultrabooks are seen as the next growth area for PCs; Samsung and Dell have already brought out new MacBook Air-style ultrabook ranges.
It could spell the end for Intel's Atom processor, the silicon that most of the netbooks pack. ARM-compatible chips are more popular for tablets and other portable kit because of their low power consumption, but Intel are attempting to carve out a niche for themselves by making low-voltage chips specially for the ultrabook form-factor.
It will be interesting to see what else Dell will offer in the £300-400 price bracket. Currently, the company is pushing a slender 1-inch thick Inspiron 11z Ultralight Laptop as an alternative on the product page for the Mini, but it's possible it will start to produce cheap tablets for that price bracket. ®
COMMENTS
@Anonymous IV
Er - Yes, it IS largely Microsoft's fault. Why is the screen resolution of my original HP netbook vastly higher than the models which replaced it? Because MS refused to allow manufacturers to continue selling XP unless they crippled the hardware it was sold with.
Incidentally, none of the things you've mentioned are a problem at all with my 2133 - the keyboard is excellent and I genuinely have no idea what I'd want to lug around an optical drive for.
No, the only real problem with it is the VIA C7 CPU which is completely gutless... otherwise it's the perfect little Linux laptop for on-site troubleshooting, with it's nice and solid brushed aluminium case.
The Dell netbooks were also pretty decent little machines when running Linux and kitted out with a SSD, it's a pity they're going.
Netbook death
> It will be interesting to see what else Dell will offer in the £300-400 price bracket.
That statement explains why the netbook has failed.
It was originally meant to be a cheap Linux machine with a small (possibly SSD) HDD. It was meant to be half the price of the £300-£400 bracket. (I picked up my Aspire One with Linpus for £150, just to use as a toy, and have actually found it a useful companion machine to the desktop.)
Unfortunately MS put their boots in and threatened the OEMs, so they had to use Windows and the associated increase in disk space just to hold the OS and associated apps.
I love my netbook
Sold my old laptop before going away for a while and picked up an NC10 when I got back. I used it for two years as my main laptop at home, I picked up an external DVD drive but hardly ever use it. It's been great for internet, email, iPlayer, listening to music etc its also got great battery life and fits easily in my backpack and unlike an ipad it's actually usefull for doing some work and typing (don't get me wrong the ipad has it's uses).
What a great versatile device :)
lack of optical drive?
why, when an SD card or USB stick offers more (rewritable) storage in far less space.
What the hell are you smoking? I know it's Friday but...
"It's bad news for Intel's Atom processor, the silicon in most netbooks, because ultrabooks tend to use faster low-energy chips from AMD and Qualcomm."
No they don't, Ultrabooks use Intel ULV chips, so whilst it might be bad news for Atom it's fantastic news for Intel who will be selling higher margin chips. Perhaps you were thinking of Smartbooks, another dead fad, or low end ultraportables/netbooks which use the AMD E350.
Atom is actually quite happy in NAS and small servers (it's got a good niche there) and the newer versions are moving towards tablets and larger phones. It was never really meant to be a mass market product in the desktop/laptop arena anyway AFAIK.
Maybe some joy for AMD and Qualcomm who may shift low end laptop or tablet CPUs to people who would otherwise have bought a netbook. But Asus (who probably make the best netbooks anyway) are still making the little critters and haven't pulled back yet. There is probably enough demands for very small x86 cheapo laptops to keep Asus/Acer making netbooks for a while yet, any other manufacturers will probably fall away though.